Remnants of Ida to bring heavy rain and flash flood potential to Kentucky
LEXINGTON, Ky. (WTVQ) – Steady rain sets in for your Tuesday across central and eastern Kentucky as the remnants of Hurricane Ida moves through the region. The National Weather Service offices in Jackson, Ky. and Louisville have issued flash watches for the entire ABC 36 viewing area through Wednesday due to the threat of 2-4 inches of rain.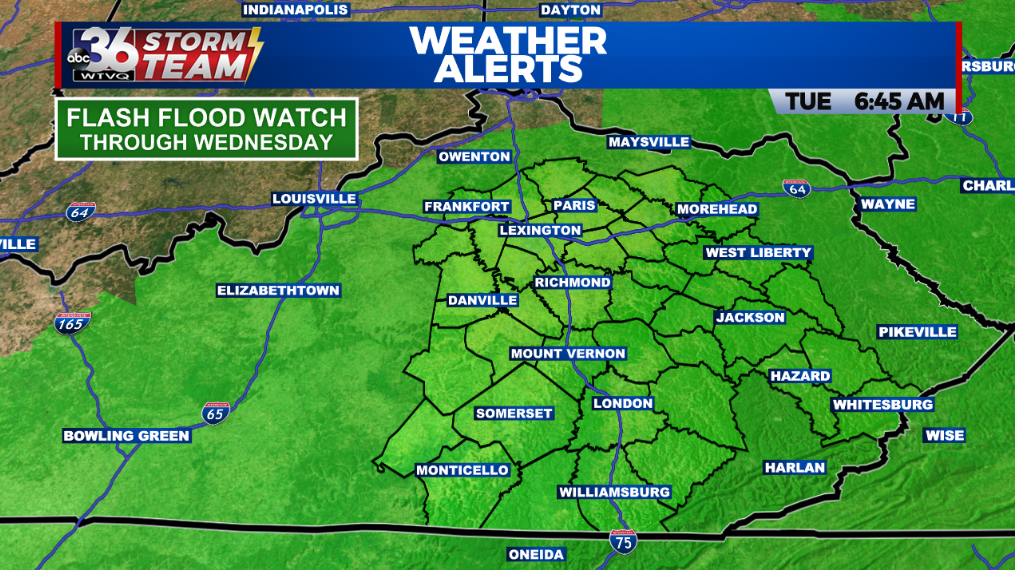 Timing out the heavy rain in central and eastern Kentucky
Tuesday Morning – Tuesday Afternoon: Light-to-moderate rain begins to move in.
Tuesday Evening – Overnight: Heavier rain picks up area wide. Watch for a strong band of rain to form, this is where flash flooding will develop.
Wednesday Morning – Wednesday Midday: Heavier rain moves into eastern Kentucky and central will begin to dry out. Creeks and streams will continue to rise even after the rain ends.
Wednesday Afternoon – Wednesday Evening: Clearing skies and below average temperatures.
Low-lying, flood prone areas are of greatest concern for flash flooding. Other areas that have an increased risk for flash flooding will be places that saw heavy rain during the day yesterday. If you live in these areas, have a plan to move to higher ground if flash flooding does occur. When flash flooding occurs remember "Turn Around, Don't Drown" when you approach high water on roadways. Most flood deaths occur in vehicles when people try to drive through flooded roadways.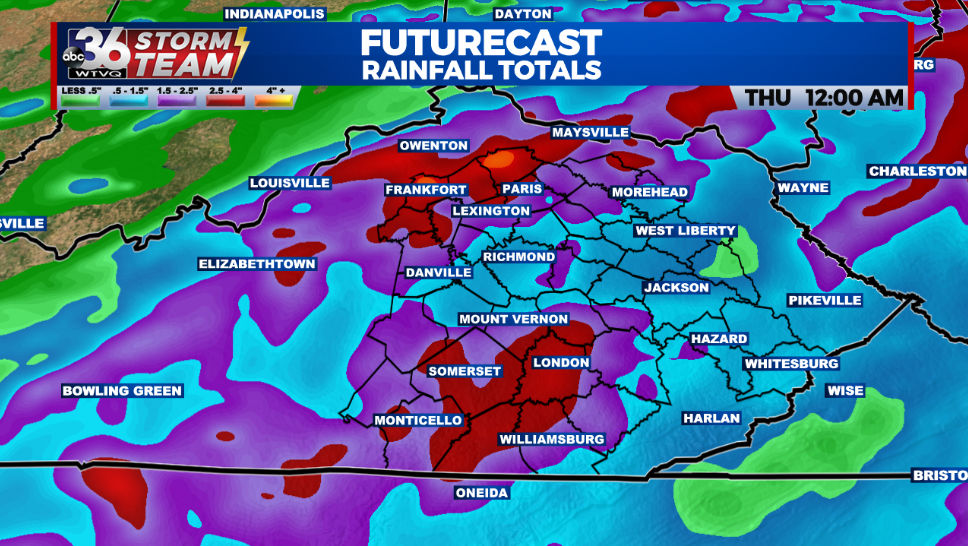 Make sure you have multiple ways to receive emergency alerts. Wireless EAS on your phone, a NOAA weather radio, the ABC App are examples of how you can receive the alerts.
The ABC 36 Storm Team will continue to track this system as it moves into Kentucky. Click HERE to join our ABC 36 Weather Watcher Facebook Group