Unsettled Weekend gives way to Warming..
Chilly Weekend. Few Snow Flakes Possible!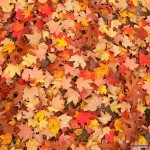 As a large, slow moving, upper storm system continues to spin across the Great Lakes, our weather will remain unsettled and unseasonably cool through the weekend with temps running in the 30's and 40's.  About 10 degrees below average for this time of the year.  The arrival of an upper disturbance will bring the chance for a few flurries or sprinkles in the morning on Sunday and then scattered showers during the afternoon with the arrival of a front that will also kick up the wind a bit gusting to around 30 out of the west late afternoon.  Sunshine looks to return early next week with a nice warm up by Tuesday and Wednesday with temps back in the 60's. Enjoy!
SATURDAY NIGHT: Mostly cloudy with a chance for flurries late.  Lows near 32. 
SUNDAY: Few AM flurries/PM rain showers.  Becoming breezy.  Highs in the middle/upper 40's.
MONDAY: Becoming mostly sunny, but cool.  Highs in the mid 40's. 
-Meteorologist Jeremy Kappell