UPDATE: At least 74 confirmed dead from tornado outbreak, Christmas toy drive announced
Team Western Kentucky Tornado Relief Fund is live at TeamWKYReliefFund.ky.gov
UPDATE POSTED 6:20 P.M. DECEMBER 13, 2021
FRANKFORT, Ky. (WTVQ/Press Release) – Gov. Andy Beshear updated Kentuckians on his administration's response to the Dec. 11 quad-state tornado. First Lady Britainy Beshear joined him to announce the Western Kentucky Christmas Toy Drive for impacted families.
The Governor said:
At least 74 Kentuckians are confirmed dead from the tornado outbreak.
Newly reported deaths: one in Graves County; four in Hopkins County; three in Warren County; one in Franklin County.
As of now, there are 109 Kentuckians reported as unaccounted for, but the Governor said he expects that number is higher.
Homeowners or property owners with damage should take photos, make a list of damaged property and document everything they possibly can.
The Graves County Senior Center and Western Kentucky Allied Services Building – the Community Action Building – have been damaged so extensively that there is no way to prepare meals. The Department for Aging and Independent Living sounded the call for assistance among community aging partners. Within 20 minutes, over 2,300 shelf-stable meals had been committed. These meals will be transported from senior centers in Breckenridge, Nelson and Fayette counties to 300 homebound seniors in Graves County by way of Community Action staff. Further work is underway to secure additional meals.
For outside donations (material items like food, supplies, etc.) please call Graves County Emergency Management at 270-727-5114. For volunteer sign up, Graves County Emergency Management has established a website.
The Paducah Police Department has volunteered to accept outside donations such as food and supplies. Call them at 270-444-8590 or visit 1400 Broadway, Paducah, KY 42003.
The Kentucky State Police (KSP) is requesting ALL Mayfield Consumer Products (MCP) candle factory employees go to His House Ministries Church at 1250 KY-303 in Mayfield. KSP is in the process of verifying information provided by executives from MCP candle factory to ensure that all potential victims are accounted for. Call 888-880-8620 (MCP employee support line) if transportation is unavailable.
KSP is also working in conjunction with Chief Medical Examiner Bill Ralston to assist with victim identification.
Kentucky State Parks are providing emergency shelters to distressed people affected by the tornado. Currently, Kentucky State Parks are providing lodging for the American Red Cross, utility crews, first responders and displaced families.
The commonwealth has designated the following parks as part of the state's emergency response efforts: Kentucky Dam Village (30 rooms available); Kenlake State Resort Park (58 rooms available, park has hook-up outlets that could be used for three washers and three dryers and will accept donations); Lake Barkley State Resort Park (awaiting electricity to be restored, an additional 56 rooms will available); Barren River Lake State Resort Park (30 rooms available); John James Audubon State Park (one cottage available); Pennyrile Forest State Resort Park (no rooms are available; all 37 rooms occupied); Rough River Dam State Resort Park (47 rooms available).
Families who are in need of emergency housing should contact their local emergency management office to request lodging. If a family in need arrives at a Kentucky State Park without having contacted their local emergency management office, park staff and volunteers should assist them in doing so when they arrive.
Kentuckians who reside in Lyon, Fulton, Graves, Muhlenberg, Marshall, Hopkins and Caldwell counties will receive priority placement.
Volunteers are needed at Kenlake, Kentucky Dam Village, Rough River Dam, and Lake Barkley State Parks. Volunteers will need to provide their own accommodations. Some parks can provide a camping space for self-contained camping. People willing to volunteer should email Andy Kasitz at andy.kasitz@ky.gov.
Many of Kentucky's major agriculture operations reside in Western Kentucky and were impacted by the historic tornadoes that devastated the area. To help identify the needs of our farmers and provide a swift response, the Governor has created an Agriculture Working Group.
More than 440 Kentucky National Guard members are supporting storm relief.
Ninety-five fatality search and recovery soldiers are working in Mayfield.
Fifty-five Guardsmen are providing Logistics Support to the State Logistics Support Area located at Wendell Ford Regional Training Center (Greenville) in order to support the Federal Emergency Management Agency's equipment push to the affected area.
Three National Guard Chaplains are providing spiritual guidance to soldiers and civilians in the affected communities.
First Lady Announces Toys for Team Western Kentucky
Today, the First Lady thanked 44,358 donors who have contributed $6,258,267.91 to the Team Western Kentucky Tornado Relief Fund. Initially, this fund will help families who lost a loved one cover funeral expenses.
Then, she launched Western Kentucky Christmas Toy Drive, a toy drive where Kentuckians across the state can come together to make this Christmas special for as many kids and teens as possible who were impacted by the Dec. 11 tornadoes.
"This time of year, we all look forward to being home for the holidays, spending time with those who mean the most to us. Now, many of our families don't have houses to go home to. Or even worse, they've lost someone they love who made their family whole," said the First Lady. "I can only imagine the pain and grief these Kentuckians are feeling at this moment. I know so many of you feel the same way, and want to know how you can help make this season a little easier for those who are hurting."
From Tuesday, Dec. 13, until Saturday, Dec. 18, Kentuckians can drop off new, unwrapped toys, games, books or technology in original packaging to 20 locations across the state. Thirteen of those locations are (KSP) posts and the largest drop-off location is Broadbent Arena in Louisville. People can also mail gifts to Broadbent Arena.
To see a list of all drop-off locations and addresses, visit FirstLady.ky.gov/ToyDrive.
Individuals can also donate $25 Visa/Mastercard gift cards. The First Lady said these gift cards are a great option so parents and guardians have flexibility to buy their kids exactly what they most want or need for the holidays, and so they can support local businesses impacted by the storms. Buying $25 cards will help state officials distribute donations equally among families, but the First Lady encouraged donors to contribute multiple $25 gift cards if they are able.
If Kentuckians have already started a toy drive at their school, at their business or in their neighborhood, the First Lady asked them to bring those toys to one of the 20 central locations listed at FirstLady.ky.gov/ToyDrive so state officials can transport them to Western Kentucky.
The First Lady asked Kentuckians not to wrap gifts. Instead, she encouraged people to donate gift-wrapping supplies.
The First Lady said clothing donations are not being accepted as part of this particular drive.
"Last, but certainly not least, I want to thank our No. 1 partner in this effort, who I know can't wait to visit Kentucky soon: Santa Claus," said the First Lady.
UPDATE POSTED 12:15 P.M. DECEMBER 13, 2021
FRANKFORT, Ky. (WTVQ) – Monday morning, Gov. Andy Beshear updated Kentuckians on his administration's response to the Dec. 11 quad-state tornado outbreak.
To watch the Governor's remarks, click here. The Governor provided key updates:
This was the worst tornado event in state history;
At least four tornadoes touched down in Kentucky; one was on the ground for more than 200 miles in this state alone;
We believe a 1,000 homes were damaged or destroyed;
In eight counties, lives were lost;
In eighteen counties, there was significant damage;
There are 64 confirmed deaths at this point: 20 in Graves County, 13 in Hopkins County, 11 in Muhlenberg County; 12 in Warren County; four in Caldwell County; one each in Marshall, Taylor, Fulton and Lyon counties;
There are 18 people who died in the storm who are still unidentified;
Ages of those lost range from 5 months to 86 years;
At least six of those lost were younger than 18;
105 people remain unaccounted for;
Mayfield Consumer Products owner says eight employees were killed and eight are still missing. The Governor is hoping for a miracle and is working to confirm this report;
Final death and destruction numbers may take a week or more;
Yesterday, President Joe Biden declared that a major disaster exists in Kentucky and ordered federal aid to supplement state and local recovery efforts in the areas affected;
The declaration makes federal funding available to affected individuals in Caldwell, Fulton, Graves, Hopkins, Marshall, Muhlenberg, Taylor and Warren counties;
Starting today, residents and business owners who sustained losses in the designated counties can begin applying for assistance by registering online at DisasterAssistance.gov or by calling 1-800-621-FEMA (3362) or TTY 1-800-462-7585 (for deaf or hard-of-hearing Kentuckians); The toll-free telephone numbers will operate from 7 a.m. to 10 p.m. (local time) seven days a week until further notice;
At least 300 National Guard members have been deployed to help;
Hundreds of Kentucky Transportation Cabinet and Energy and Environment Cabinet Division of Forestry staff members are clearing debris;
Kentucky State Parks in the area are now open to host families who need housing for at least two weeks. Volunteers who are willing to assist state parks staff housing distressed guests should contact Kentucky State Parks Division Director Andy Kasitz at andy.kasitz@ky.gov;
The Governor ordered flags to be flown at half-staff Tuesday through next Monday evening in honor of those lost and impacted;
The Team Western Kentucky Tornado Relief Fund will provide $5,000 to each victim's family for funeral expenses. There is no need to apply the state will be working to contact families;
As of this morning, the Team Western Kentucky Tornado Relief Fund has received:
Both Department for Community Based Services locations in Mayfield/Graves County suffered damage and cannot serve the public at this time. A mobile unit has been requested. Until the mobile unit is ready, those who need help may call 855-306-8959, or they may apply for help online on the kynect site. The URL is kynect.ky.gov. Starting today, a special queue is in place for people needing Supplemental Nutrition Assistance Program benefits, or SNAP;
Walgreens in Mayfield has been the only pharmacy that's been open and starting today, Walmart Pharmacy plans to open for prescription fulfillment;
Around 30,000 homes are still without power;
Any family members of missing loved ones should report to the office building of His House Ministries to provide a reference standard to law enforcement for identification purposes. His House Ministries is located at 1250 KY-303 in Mayfield. Anyone who needs assistance in getting to His House Ministries can call 859-267-7775.
The Kentucky State Police Forensic Laboratory is using Rapid DNA technology to assist in the identification of victims in Friday night's storms;
Rapid DNA has been used throughout the country for this purpose and can provide results in less than two hours. This allows family members to be reunited with the remains of their loved ones as quickly as possible.
UPDATE POSTED 2:15 P.M. DECEMBER 11, 2021
​​​​​​​FRANKFORT, Ky. (WTVQ) – Gov. Andy Beshear updated Kentuckians on his administration's response to the deadly quad-state tornado that swept across the state Friday night and Saturday moning.
At more than 200 miles long, the storm event was the longest tornado track on record and the largest in Kentucky history.
"I want to thank every local emergency management employee, police officer, firefighter and first responder. This has been one of the toughest nights in Kentucky history. It's hard to put into words," said Gov. Beshear. "Remember, each of these lost lives are children of God, irreplaceable to their families and communities. But we will make it through this. We will rebuild. We are strong, resilient people – and we're going to be there every step of the way. This is one state standing strong."
The Governor immediately declared a state of emergency and activated over 180 Kentucky National Guard members as well as the Kentucky State Police. The state also is using armories as places of refuge for Kentuckians in need of shelter.
State workers are on the ground to help clear roadways and debris. The Governor said he is working to quickly establish the Western Kentucky Tornado Relief Fund to accept donations to help communities across this region recover.
The Governor already has held two media briefings, with at least two more planned Saturday. During this morning's briefing in Mayfield, he said: "This will be, I believe, the deadliest tornado system to ever run through Kentucky. Earlier this morning at about 5 a.m., we were pretty sure that we would lose over 50 Kentuckians. I'm now certain that number is north of 70. It may in fact end up exceeding 100 before the day is done. The damage is even worse now that we have first light. A couple places have been hit incredibly hard, certainly Mayfield here in Graves County, but everywhere along the line of this tornado that touched down and stayed down for 227 miles."
The Governor added: "Kentucky is united today behind the people of Western Kentucky. We want to be here to help dig out, to help make rescues, to help provide when people are suffering and then to help rebuild. This is not a one-day thing. This is one state, and we will stand united to make sure that we can lift our families back up. But please know that there are a lot of families that need your prayers, prayers that somebody may be found or prayers to help them through the grieving process."
Gov. Beshear said he has spoken directly to President Joe Biden, Homeland Security Secretary Alejandro Mayorkas and Federal Emergency Management Agency administrator Deanne Criswell about his request for a federal emergency declaration. The Governor said he is expecting to receive approval.
"This will bring additional resources to Western Kentucky counties devastated by these tornadoes and allow for quicker reimbursements. I appreciate the President's swift response during our time of need. Now we can get to work supporting our people as we recover," said Gov. Beshear. "The entire commonwealth is with all of Western Kentucky, and those Kentuckians impacted are in our thoughts and prayers. We will get through this together."
UPDATE POSTED 1 P.M. DECEMBER 11, 2021
MAYFIELD, Ky. (WTVQ) – Kentucky's federal delegation, including U.S. Representative Andy Barr (KY-06), U.S. Senate Republican Leader Mitch McConnell, Senator Rand Paul, and Representatives Hal Rogers (KY-05), John Yarmuth (KY-03), Brett Guthrie (KY-02), Thomas Massie (KY-04), and James Comer (KY-01) sent a joint letter today to President Joe Biden expressing their support for Governor Andy Beshear's request for a disaster declaration for the Commonwealth of Kentucky regarding the overnight tornadoes and severe weather.
"We write to draw your attention to the December 11, 2021 letter from Governor Andy Beshear requesting a disaster declaration for the Commonwealth of Kentucky due to the severe weather events…We strongly support this request and ask for your timely consideration," the delegation stated in their letter to the President. "Unfortunately, at least 50 deaths have been reported across multiple counties in the Commonwealth as a result of these tornadoes. The Kentucky National Guard and Kentucky State Police have been mobilized to provide support to Kentuckians, but emergency response has also been hampered by the storm damage."
Initial reports indicate that this was the longest tornado touchdown in the Commonwealth's history. The tornadoes have caused significant destruction of property, dangerous road conditions, significant vegetative debris, power outages for thousands of Kentuckians, and severe impacts to transportation and infrastructure.
A federal disaster declaration would release funding and resources to aid Kentucky communities hardest-hit by the tornadoes and severe weather.
UPDATE POSTED 10:30 A.M.
BOYLE COUNTY, Ky. (WTVQ) – Photos of tornado damage at the Airport in Danville.
MAYFIELD, Ky. (CNN/AP/WTVQ) – After a catastrophic tornado leveled the building, the families of workers at a Mayfield, Kentucky, candle factory are searching for loved ones who they haven't been able to reach hours after the storm.
Paige Tingle is looking for her mother-in-law, Jill Monroe. Tingle said the family last spoke with Monroe around 9:30 p.m. ET when she was in the bathroom in the safe shelter area.
Currently, Tingle and her husband are driving from Oldham County, Kentucky to Mayfield.
"[Monroe] has lung problems, she has heart problems," Tingle said. "We've got to get her."
Tingle says that they have checked local hospitals, but Monroe has not been admitted. They have been calling her phone and it's still ringing, but no one has picked up.
Paducah, Kentucky, resident Ivy Williams told CNN his wife Janine Williams is also unaccounted for.
Williams said he last heard from his wife last night before the tornado hit. His daughter told him that the factory was damaged, but when Williams arrived on the scene, he wasn't prepared to see the building was completely leveled.
He told CNN that he even helped pull some people from the rubble. However, he still hasn't found his wife.
"I'm looking for you, baby," Williams said. "We're all looking for you right now."
Whitney Westerfield, a certified drone operator and Kentucky state senator, shot drone videos and photos of the damage in Mayfield, Kentucky, on Saturday morning.
Westerfield wasn't sure what the buildings in the photo were.
Some of the nearby buildings appeared to be destroyed.
"We have half of some of our towns here in western Kentucky that are just gone. It's hard to see," Beshear told CNN.
He said at least 50 people are dead, but he estimated there will be more fatalities.
At the site of a leveled candle factory in Mayfield, Kentucky, Beshear said there has not been a successful rescue since 3 a.m. ET.
"This tornado on the ground for 200-plus miles, everything in its wake is gone — homes, businesses, government buildings, just gone. There are pieces of industrial facilities in trees. It's hard to imagine that this is even possible," he said.
Mayfield Mayor Kathy Stewart O'Nan told CNN that "it looks like a bomb has gone on off here."
Beshear said resources are in the process of being sent to damaged areas.
"The National Guard is being deployed both at this site and to even go house to house. I would say door to door, but most of them aren't standing," he said.
"We've requested an emergency declaration from the White House. That is in process. We are told it's going to happen and they are already sending resources our way. We've got first responders from all over the commonwealth, coming to where they're needed the most. Mayfield is ground zero," he said.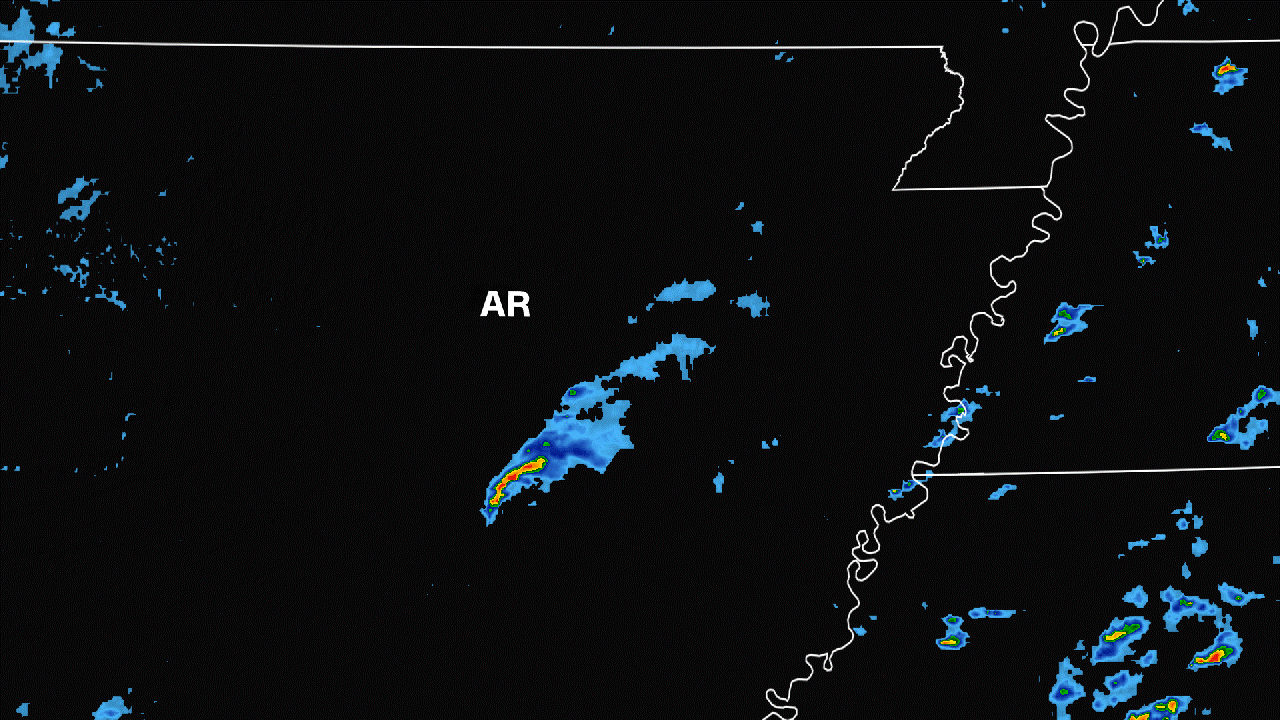 A plausible "quad-state" tornado potentially cut a path 250 miles long across four states Friday evening, leaving a path of devastation.
"The storm of this latest severe weather event tracked more than 250 miles through several states (including Arkansas, Missouri, Tennessee, and Kentucky)," the National Weather Service in Little Rock tweeted. "One or more deadly tornadoes were spawned, with major structural damage noted."
It will take days for the National Weather Service to conduct reviews of the path and it likely won't be confirmed if this was one single tornado on the ground for the entirety or multiples until sometime next week.
As the storm was ongoing last night, the Storm Prediction Center said the long-track supercell in Kentucky had a nearly continuous tornado debris signature on radar for over three hours.
By the time the storm ended, it appears that the debris signature likely lasted continually for at least four hours.
To note: If confirmed that a single tornado tracked this entire distance of 250 miles across Arkansas, Missouri, Tennessee and Kentucky, it would become the longest recorded single tornado path in history.
That length would make this 'quad-state' tornado longer than the historic 'tri-state' tornado in 1925, which traveled across Missouri, Illinois, Indiana and traveled 219 miles.
This single storm has reportedly caused considerable tornado damage in Monette, Arkansas, and Mayfield and Central City, Kentucky.
It will take days for the National Weather Service to conduct reviews of the path and we won't know if this was one single tornado or multiples until sometime next week.
Read the tweet:
More than 100 tornado warnings were issued by National Weather Service offices Friday before midnight.
That is the highest number of tornado warnings issued for a December day, according to CNN meteorologist Brandon Miller.
President Biden called losing a loved one in a storm like the ones that swept across parts of the US early Saturday "an unimaginable tragedy."
"This morning, I was briefed on the devastating tornadoes across the central US," Biden tweeted. "To lose a loved one in a storm like this is an unimaginable tragedy. We're working with Governors to ensure they have what they need as the search for survivors and damage assessments continue."
GRAVES, Ky. (WTVQ/CNN/AP) – Lexington and other area fire departments are sending teams to Western Kentucky as more than 50 people are dead after tornadoes ripped through the state overnight. Two Lexington fire crews left at about 10 a.m. Saturday for Graves County, one of the hardest hit areas, the department said.
A survivor of one of the hardest hit places recounts her harrowing story in Graves County. And meanwhile, as of about 10 a.m. Saturday, power remains out for about 400 customers along a path from Danville and Junction City east to Waco on the Madison/Estill County line, including residents in the Stanton area, according to
Kentucky Utilities (click to check outages).
Scattered outages impacting less than 50 people are reported in Lexington and Frankfort and about 200 people are without power in the Shelbyville are without power, according to the utility.
More than 500 people are without power in the Burnside and Somerset area in Pulaski County. Other outages are reported near Morehead in Rowan County.
To the south, some 200 people are without power scattered along a line from Flat Lick in Knox County to Harlan in Perry County to the Virginia and Tennessee lines.
Statewide, at least 50 people are likely dead after multiple tornadoes barreled through southwestern Kentucky late Friday, according to Beshear.
"We believe our death toll from this event will exceed 50 Kentuckians, probably end up closer to 70 to 100 lost lives," Gov. Andy Beshear said at a briefing Saturday morning, calling the storms that hit the state "the most severe tornado event in Kentucky's history."
Beshear will tour areas impacted by the tornadoes that ripped through his state overnight, according to a release from his office Saturday.
Beshear will first go to Mayfield Saturday morning, then to Dawson Springs in the afternoon, his office said.
Kentucky Sen. Rand Paul issued a statement promising support to local officials following the overnight devastation from deadly storms across the state.
"Our hearts are broken for all those suffering from last night's terrible storms. I and my team will do all we can to assist local and state officials as they lead the immediate response, and will aggressively help families, businesses, and officials access recovery resources," Paul tweeted.
Preliminary investigations indicate four tornadoes may have hit the state, including one that potentially stayed on the ground for more than 200 miles, Beshear said. Damage has been reported in at least 15 counties stretching across western Kentucky.
The worst destruction was in Graves County, he said, particularly the town of Mayfield. "It hit Mayfield as hard as just about any town … has ever been hit."
The most severe damage appeared to be at a candle factory that was destroyed in the town of about 10,000 residents in southwestern Kentucky.
"There were about 110 people in it at the time that the tornado hit it. We believe we'll lose at least dozens of those individuals," Beshear said.
A tornado left the candle factory, "just a pile of rubble," a storm chaser on the ground told CNN.
"When I got to this area, it was flashing lights in every direction. Trees down, roads impassable. It looked like a war zone. … What you're seeing behind me is nothing to what goes on for the next four or five miles," Michael Gordon told the network.
There were about 110 people inside the Mayfield Consumer Products candle factory at the time the tornado hit, Beshear said during a morning press conference, adding that "we believe we'll lose at least dozens of those individuals."
Search-and-rescue teams are in the process of going through the rubble, Gordon said.
Kentucky U.S. Rep. James Comer told CNN that it appears the worst of the damage is in the Mayfield area. He said it was the candle factory's busiest time of the year because of the holiday season, and it was one of the largest employers in the town.
"When [first-responders] arrived on the scene, they didn't think there would be any survivors. But they could hear people yelling for help. And they pulled people out, some people that didn't experience any damages. But, of course, now, you're at the point to where you're pulling out the people that didn't make it. And there's still lots of people unaccounted for in that factory," Comer said.
Comer said the area will need a lot of assistance from the Federal Emergency Management Agency.
U.S. Senate Minority Leader Mitch McConnell of Kentucky shared his condolences following the devastation caused by tornadoes across his state.
"I am praying for the lives lost and communities impacted by the tornado devastation throughout the Commonwealth," McConnell said in a statement.
Winter commencement ceremonies scheduled for Saturday at Western Kentucky University in Bowling Green were canceled due to the aftermath of a major tornado outbreak in the region.
"WKU remains without power," the school tweeted early Saturday. "No injuries are reported on campus, but there is significant tornado damage in the area."
Students on campus were advised to remain in place, while others were told not to travel to the campus.
"WKU is in contact with all residential staff, and no injuries are reported on campus at this time," the university said.
According to Emergency Management, 181 National Guardsmen are on the way to western Ky.
At midnight, Beshear declared a state of emergency.
"We will get make it through this, we will rebuild," Beshear said at a 4 a.m. press conference. "We are strong, resilient people, and we will be there every step of the way."
Overall, tornadoes and severe weather caused catastrophic damage across multiple states late Friday, killing at least six people overnight as a storm system tore through a candle factory in Kentucky, an Amazon facility in Illinois and a nursing home in Arkansas.
Kyana Parsons-Perez, a factory employee in the candle factory, was trapped under five feet of debris for at least two hours until rescuers managed to free her.
According to the Associated Press, in an interview with TODAY, she said it was the "absolutely the most terrifying" event she had ever experienced. "I did not think I was going to make it at all."
Just before the tornado struck, the building's lights flickered. She felt a gust of wind, her ears started "popping" and then, "Boom. Everything came down on us." People started screaming, and she heard Hispanic workers praying in Spanish.
Among those who helped rescue the trapped workers were inmates from the nearby Graves County Jail, she said.
"They could have used that moment to try to run away or anything, but they did not. They were there, helping us," she said.
At least one person died at an Amazon facility in Edwardsville, Illinois, Police Chief Mike Fillback told reporters Saturday morning. The roof of the building was ripped off and a wall about the length of a football field collapsed.
Two people at the facility were taken by helicopter to hospitals in St. Louis, Fillback said. The chief said he did not know how serious their injuries were. Edwardsville is about 25 miles (40 kilometers) east of St. Louis.
It wasn't immediately clear whether the damage was caused by straight-line storms or a tornado, but the National Weather Service office near St. Louis reported "radar-confirmed tornadoes" in the Edwardsville area around the time of the collapse.
About 30 people who were in the building were taken by bus to the police station in nearby Pontoon Beach for evaluation.
Early Saturday, rescue crews were still sorting through the rubble. Fillback said the process could take several more hours. Cranes and backhoes were brought in to help move debris.
The Belleville News-Democrat reported that the Amazon fulfillment center in Edwardsville opened with two warehouses in 2016, with 1.5 million square feet (about 139,000 square meters) of space. The warehouses are used to store items until they are shipped to mail-order customers.
"The safety and well-being of our employees and partners is our top priority right now," Amazon spokesperson Richard Rocha said in a written statement Friday night. "We're assessing the situation and will share additional information when it's available."
Workers at a National Weather Service office had to take shelter as a tornado passed near their office in Weldon Spring, Missouri, about 30 miles (48 kilometers) west of St. Louis. One person died and two others were injured in building collapses near the towns of Defiance and New Melle, both just a few miles from the weather service office.
A tornado struck the Monette Manor nursing home in Arkansas on Friday night, killing one person and trapping 20 people inside as the building collapsed, Craighead County Judge Marvin Day told The Associated Press.
Five people had serious injuries, and a few others had minor ones, he said. The nursing home has 86 beds.
Three storm-related deaths were confirmed in Tennessee, said Dean Flener, spokesman for the Tennessee Emergency Management Agency. Two of the deaths occurred in Lake County, and the third was in Obion County — both in the northwestern corner of the state.
In Kentucky, several buildings collapsed during the severe weather that struck Mayfield, said Sarah Burgess, a trooper with the Kentucky State Police.
"The entire building is essentially leveled," she said.
Farther east in Bowling Green, Western Kentucky University said on Twitter that emergency crews were assessing significant storm damage and that no injuries were immediately reported. However, the school called off commencement ceremonies that were planned for Saturday because the campus was without power.
"It's obvious we had major wind damage," said Ronnie Ward, a Bowling Green police spokesman, in a telephone interview.
Rescue efforts in Bowling Green and elsewhere were hampered by debris strewn across roads. Ward said numerous apartment complexes in Bowling Green had major structural damage, and some factories had collapsed during the storms.
"Right now we're focusing on the citizens, trying to get to everybody that needs us," Ward said.