200 watches worth more than $2M halted by CBP officers
LOUISVILLE, Ky. (WTVQ) – As the holiday season, criminals are stocking up on their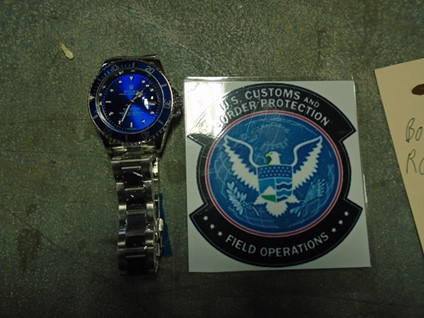 counterfeits to fool U. S. consumers and reap the benefits of record breaking online purchases.
U.S. Customs and Border Protection officers in Louisville are doing their part to protect the consumer and the economy seizing illegal shipments of counterfeit items that are shipped in the mail.
Monday night,CBP officers in Louisville stopped a shipment from Hong Kong, destined for a company in New York, and uncovered 200 counterfeit Rolex watches worth more than $2.6 million.
CBP held the shipment, manifested as 'fashion watches,' and inspected the parcel to determine the admissibility of its contents in accordance with CBP regulations. When the shipment was opened, and mingled with other legitimate watches, counterfeit Rolex watches were found inside.
The watches were reviewed by an import specialist who determined the items were counterfeit. In all, 200 watches were seized. If these items were real, the total MSRP for these would have been $2.68 million.
"The importation of counterfeit merchandise poses a significant risk to the vitality of the U.S. economy, our national security and the health and safety of the American people," said Steve Bansbach, CBP Public Affairs Specialist. "Our enforcement efforts protect the integrity of private industry, while maintaining the inventory of safe, quality goods for the end user in the U.S."
In fiscal year 2020, CBP processed $2.4 trillion in imports, ensuring that goods coming into the country are safe and legal. By the end of the last fiscal year, CBP recorded more than 23,700 seizures of counterfeit goods, with an estimated value of $1.2 billion. Visit the National IPR Coordination Center for more information about IPR including counterfeiting and piracy.
CBP has established an educational initiative to raise consumer awareness about the consequences and dangers that are often associated with the purchase of counterfeit and pirated goods. Information about the Truth Behind Counterfeits public awareness campaign can be found at https://www.cbp.gov/FakeGoodsRealDangers.