Winchester tenants face eviction; apartment complex still without power following storms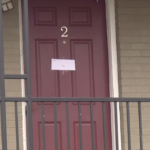 WINCHESTER, Ky (WTVQ)- It's been more than a week since storms swept through the state, knocking out power to thousands of homes.
In Winchester, tenants at one apartment complex are still waiting for their power to be restored. Some tenants at College Park Apartments have had to stay in their apartments without electricity or find temporary shelter since storms swept through the area March 3rd.
But it doesn't stop there: they say they could soon be homeless. The tenants say they have less than two weeks to get out after receiving a notice to vacate on their doors Friday.
Tristian Boyd and her 8-year-old son Cole are tenants at the complex. Cole has autism and is used to a routine. But when the electricity went out, the Boyds were left with no choice but to find another place to stay.
Though Tristian says she thought it would only be temporary, now she's not so sure.
"Getting him out of his routine has been horrible because everything is routine. And everything is out of whack. I'm not sure how long the motel is going to last because that was just a short time until we get back into our apartment. But we have no apartment to come back to," says Boyd.
They're just one of about twenty families living at the complex who are now on the verge of homelessness.
Carrie Morris and her son have stayed at their apartment in the cold and dark since the electricity went out because they say they have no other option. Morris says its been unbearable.
"It's crazy, we've been without power, without heat. I live paycheck to paycheck. I paid my rent so i have no money to go anywhere so I've been staying in the cold, dark apartment," says Morris.
The tenants say during the storms, a tree fell onto the power lines and damaged the power supply.
"We're tenants but we're people. Just because we have to rent or choose to rent doesn't mean they can treat us like trash."
Reggie Davis, who has lived at the apartment complex for four years, says the landlord told him it would be fixed. But now more than a week later, no progress has been made.
"You're laying in a bed and you're seeing your own breath, you know you might as well be laying outside on this concrete," says Davis.
And now with potentially only 12 days left until they have to vacate, tenants aren't sure what to do.
We reached out to the College Park Apartments' attorney but have not heard back at this time.