Two dead following Sunday morning car accident in Nicholas County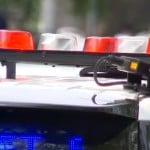 NICHOLAS COUNTY, Ky (WTVQ)- Two people are dead in Nicholas County after a car accident early Sunday morning.
The Nicholas County Coroner's Office tells ABC 36 they're investigating a single vehicle accident that happened around 1:26 Sunday morning. They say the incident happened on Myers Road (KY 32 East.)
The office has identified the victims as 20-year-old Gage Gaunce and 17-year-old Nathaniel Clay Welch, both of Carlisle.
Their bodies have been taken to the state medical examiner's office in Frankfort for an evaluation.
The Nicholas County Sheriff's Office, Nicholas Fire and Rescue, EMS, and the Paris Police Department Accident Reconstruction Unit are assisting in the investigation.