Thousands of cyclists return to Georgetown for Horsey Hundred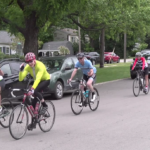 GEORGETOWN, Ky (WTVQ)- The annual Horsey Hundred returned to Georgetown this weekend,welcoming thousands of bike riders from across the country.
This marks the event's 45th year. It's hosted by the Bluegrass Cycling Club.
Nearly two thousand cyclists came from 39 states and Canada to take part.
"This is a well known event. We have people coming from all over the country so we just have a great reputation and we take great pride in as a club, and it's all volunteers, to introduce people to what we think is some of the best cycling in the world really," says Randy Thomas, the Horse Hundred Director.
The event features three days of cycling along Scott, Woodford, and Franklin counties.
There were five routes ranging from 25 miles to 100 miles that cyclists could take on Saturday.
On Sunday, there will be four routes ranging from 25 to 75 miles long.
Tomorrow, there will be four routes.
"I've been doing this ride for many, many years. It's a great ride. It's very very well-organized, its very safe. Very friendly. And you can't beat the scenery anywhere. It's absolutely beautiful," says cyclist Gayle Pille from Boone County.
The event continues Sunday.
Organizers say its important for drivers to be on the lookout for cyclists- and to extend courtesy if they encounter cyclists along the routes.