The Nest holds annual prom dress giveaway event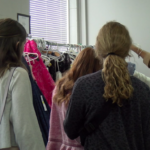 LEXINGTON, KY (WTVQ)- High-schoolers from around the state got the chance to pick out free prom dresses, all thanks to the Nest.
The non profit held their annual "Bippity Boppity Boutique" dress giveaway Saturday at Calvary Baptist Church.
Each guest got to try on dresses and select the gown of their choosing. There were also shoes, jewelry and accessories.
Organizers say the dresses are collected throughout the year- and the goal is to give each teen the royal treatment as they gear up for a one-of-a-kind prom night they wont forget.
"First and foremost, it's an empowering event. It gives the young ladies control over some little slice of their life. And if this is some way we can alleviate some little stress for the parents by offering them a prom dress, we're happy to be able to do it," says Sheri Estill, the Director of Community Engagement at the Nest.
The Nest has put on the event for about ten years.