State's slow decline in COVID continues, Beshear nears essential worker bonus plan
FRANKFORT, Ky. (WTVQ) – Kentucky's COVID caseload and positivity rate continues to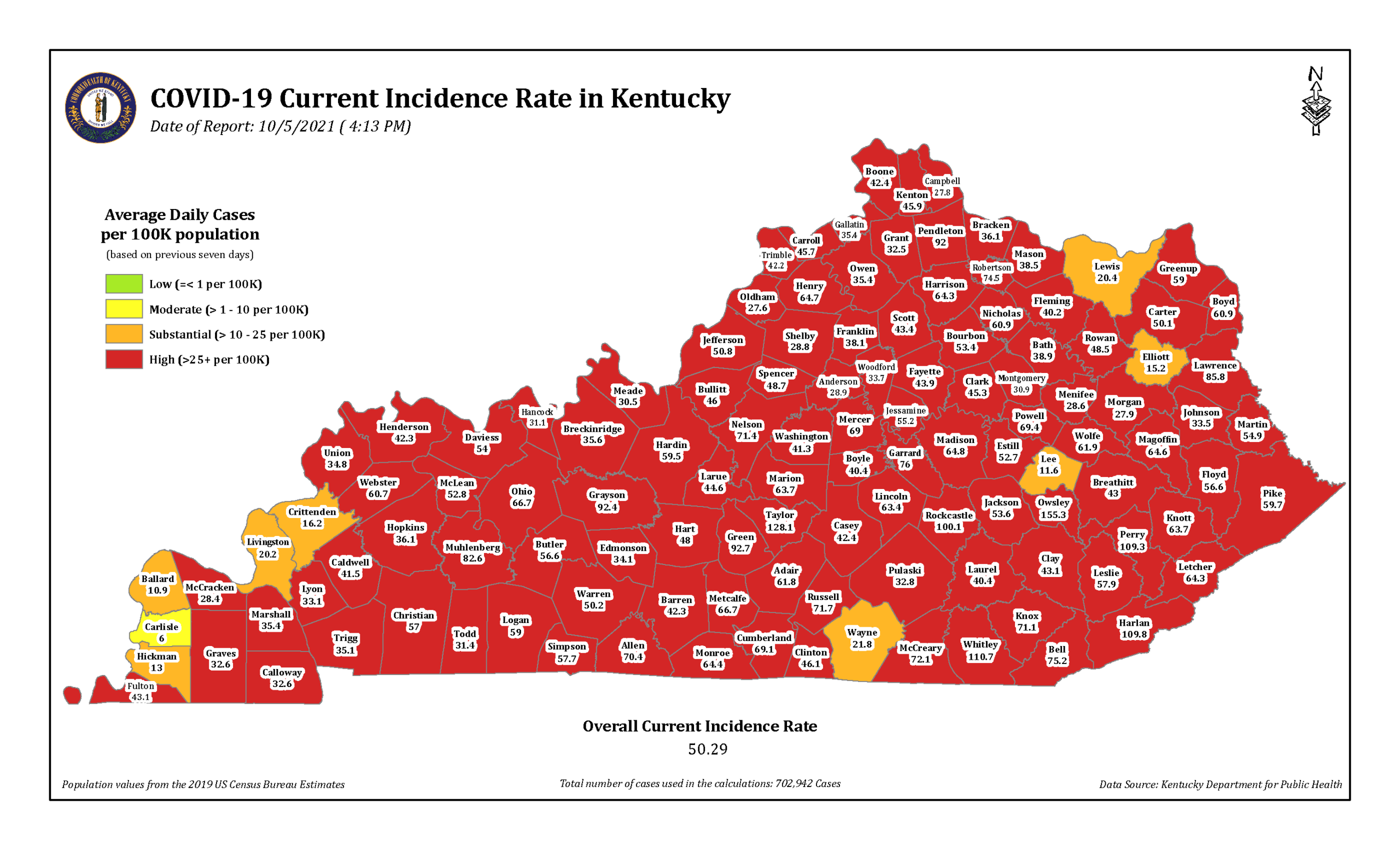 decline, but it also continues to be a slow process and impact younger people hard.
That includes a 29-year-old who was among the 15 deaths the state reported Tuesday.
Gov. Andy Beshear listed 2,582 new cases Tuesday, well below the 4,551 listed last Tuesday, and a positivity rate that has decreased to 9.13%, down from 10.4% a week ago.
"While cases continue to decline, the delta variant is still impacting younger individuals making it more important than ever for these age groups to get vaccinated and mask up indoors," the governor said.
Other indicators are more mixed.
The number of people in the hospital rose to 1,677, up from 1,668 Monday. While hospitalizations were up, the number of people in intensive care edged down slightly from 496 Monday to 494 Tuesday as did the number of people on a ventilator, which slipped from 332 Monday to 323 Tuesday.
From March 1 to Sept. 29, 86.2% of COVID-19 cases, 92.4% of COVID-19 hospitalizations and 84.5% of COVID-19 deaths in Kentucky have been among those who are unvaccinated or partially vaccinated.
The governor reported 61% of all Kentuckians, including those that are too young to be eligible, have gotten at least one COVID-19 vaccine dose; 71% of Kentuckians 12 or older, or 71%, of all eligible Kentuckians, have gotten at least one COVID-19 vaccine dose; and 74% of Kentucky adults have received at least one COVID-19 vaccine dose.
Beshear said on Oct. 14-15, a U.S. Food and Drug Administration (FDA) advisory committee will discuss booster doses of Moderna and Janssen COVID-19 vaccines. On Oct. 26, the FDA anticipates the advisory committee will discuss authorizing the Pfizer-BioNTech COVID-19 vaccine for children ages 5-11.
Beshear reminded Kentuckians that Pfizer vaccine booster eligible occupations at increased risk for COVID-19 exposure and transmission previously detailed by U.S. Centers for Disease Control and Prevention include:
First responders (health care, firefighters, police, congregate care);
Education (teachers, professors, support staff, day care workers);
Food and agriculture workers;
Manufacturing workers;
Corrections workers;
U.S. Postal Service workers;
Public transit workers; and
Grocery store workers.
The governor also repeated that he plans to send within the next 10 days a recommendation and overall framework to the General Assembly to use $400 million in upcoming American Rescue Plan Act funding for essential worker bonuses, for individuals who stay in their roles for at least two full years after the start of the pandemic in Kentucky, on March 6, 2020.
"This is something that when we send to the legislature, we are going to ask for cooperation and the formation of a working group that would include legislators, legislative staff, as well as executive branch staff, to go through the who and the how much to make sure that we do this right based on our experience and to make sure we hear from and listen to different groups, including legislators from what they have been seeing in their district," said Beshear.