State, local leaders provide updates following Friday's storms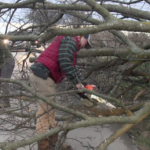 FRANKFORT, Ky (WTVQ)- Kentucky governor Andy Beshear gave grim news Saturday morning: at least five Kentuckians have died, including a woman in Lexington, after severe storms swept through the state Friday.
"Sadly,we lost five Kentuckians in the weather event yesterday," says Governor Andy Beshear.
Those storms causing a lot of downed trees across roadways; damage to buildings and homes, and power outages. While clean up efforts are underway officials say it could take days- even weeks- to recover.
Wind gusts reached nearly 80 miles per hour in some parts of the state toppling trees into road ways and onto power lines. At least 6 semi trucks were blown over along Interstate 64.
Hundreds of thousands of people are still without power. According to LG&E and Kentucky Utilities, the storm impacted nearly 300,000 customers and brought down 1,700 power lines.
"We've got a multi-day restoration event on our hands," says Daniel Lowry, the spokesperson and media manager for LG&E and KU.
Lowry explains just how major this storm was.
"At this point, it stands as the third most significant outage event on our system in the last twenty years," says Lowry.
Lowry says power crews are coming in from neighboring states to help. He says its important for people to stay away from downed lines.
"First and foremost, stay away from any downed lines or any tree that may be in contact with that line. You don't want to touch a limb that could be in contact. That could be energized too and could create a real danger."
Emergency management leaders are getting a bigger picture of the overall damage. Kentucky's Emergency Management Director Jeremy Slinker says safety should be your top priority when it comes to generators. He says its important for people not to use generators indoors, because it could lead to the loss of life.
He also says its important for people to not drive through flooded roads and bridges.
"Turn around, don't drown. Just don't do it. Don't go through it, its not worth the risk. We've got a few clear sky days, things are gonna get better," says Slinker.
The governor also emphasizing the message of being patient and letting utility crews do their jobs.
"Try not to go to any areas with significant damage just to see them. You can either get in a dangerous situation or you can get in the way of those that are trying to clean it up and make it safe. We always want to let the professionals do their job and not impede them," says Beshear.
Lexington Mayor Linda Gorton is expected to hold a press conference with other Fayette County leaders following Friday's storms. We'll have more at 11 p.m.