State may get vaccination bump after payoffs July 2; positivity falls
FRANKFORT, Ky. (WTVQ) – Kentucky continues to creep toward its broad vaccination goal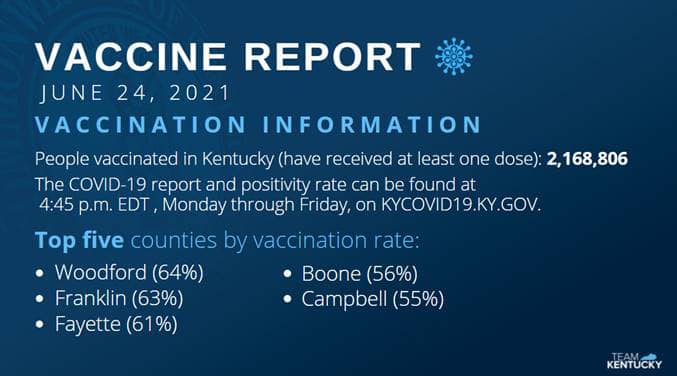 as new case numbers continue a slow but steady fall.
State officials said Thursday if other states are any indication, the state may get a bump once the first payoffs from incentives are made next week, convincing reluctant people that incentives are real.
Gov. Andy Beshear said Thursday 2,168,806 Kentuckians vaccinated, a 2,853 increase from Wednesday.
DDr. Steven Stack, commissioner of the Kentucky Department for Public Health, went over the current state of the state's vaccination efforts.
As of June 24, almost 2.2 million Kentuckians have gotten at least one dose of a COVID-19 vaccine. This news comes as new COVID-19 cases have declined in the Commonwealth for seven straight weeks.
Another update was provided regarding the Shot at a Million sweepstakes, Kentucky's incentive program to encourage the public to get vaccinated against COVID-19. At this moment, 472,938 Kentuckians have registered for a chance at $1 million and 26,636 youths have registered for a chance to win a full college scholarship.
The first drawing's winners will be announced Friday, July 2. For more information and to sign up for a chance to win, visit shotatamillion.ky.gov.
The governor also reminded Kentuckians of the Wednesday, June 30 deadline to register for the first #ShotataMillion vaccination drawing at ShotataMillion.ky.gov.
After finally dropping below 2% during the weekend, the state's positivity rate has continued to decline.
The state's COVID positivity rate was 1.95% Monday and 1.85% in Wednesday's report. It remained at 1.85% Thursday.
Additionally, the number of new cases was 204 Thursday with 35 of those in people 18 or under. The number of new cases also continues to slowly fall.
The state still has no 'red' counties and now has four in the 'orange' category. Most counties are still in yellow although the number in "green' continues to grow.
The state reported four new coronavirus-related deaths, bringing Kentucky's total death toll since the pandemic to 7,200.
Of the total cases, the state said 196 people were in the hospital, 55 are in ICU, and 32 are still on a ventilator, all the same as Wednesday's numbers.
The full vaccination report, COVID-19 numbers and positivity rate are reported daily at KyCovid19.Ky.gov.