State COVID numbers reach 669, positivity nears 4%
FRANKFORT, Ky. (WTVQ) – The state's number of new COVID cases is exploding, doubling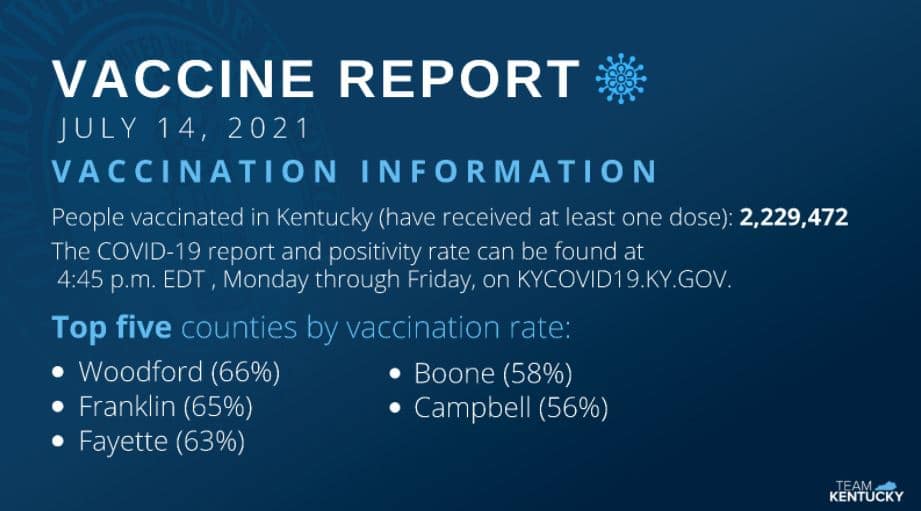 in less than a week as the positivity rate now is approaching 4%.
Some experts say without a rush in vaccinations, the state could be headed to a return of restrictions, especially as schools are less than a month from starting.
The state reported 669 new cases Wednesday with a positivity rate of 3.81%. That's up from 3.58% Tuesday, 3.38% Monday, 3.1% Friday, 2.92% Thursday and 2.87% last Wednesday.
The state also reported 669 new cases Wednesday, up from 470 Tuesday. Of Wednesday's new cases, 129 are people 18 and under, up from 102 on Tuesday.
Health experts issued warnings Wednesday, especially with more cases of the 'Delta' varint showing up in the state.
During a discussion Wednesday, UK Healthcare doctors said variants aren't a surprise because most viruses evolve to become more easily transmitted. In some cases, like the 'Delta' variant, they become more contagious and harsher.
But vaccines have proven effective against the variant, providing another incentive for people to get the shot. The majority of hospitalizations are unvaccinated people.
"The issue is that it's not that the virus is more aggressive once you get it, it's just easier to get it," Dr. Ashley Montgomery-Yates, UK Healthcare's chief medical officer for inpatient care, said during Wednesday's panel discussion.
The group said booster shots still are being researched but the biggest push now is to try to get a higher percentage of the population vaccinated. If it doesn't happen, mask mandates and other possible restrictions could return.
According to the daily report, the state now has two 'red' counties and 23 in the 'orange' category. That's the highest number of 'orange' counties in weeks and up from just eight Monday.
The state reported five new coronavirus-related deaths, bringing Kentucky's total death toll since the pandemic to 7,276.
The state reported 239 people hospitalized, down slightly from Tuesday but still above Monday. Sixty people were in ICU, down from 63 the day before, and 25 people are on a ventilator, down from 26 Tuesday.
The full vaccination and COVID-19 report are updated on KyCovid19.Ky.gov .