Somerset man turns love of outdoors into turkey-call business that gives to military
SOMERSET, Ky. (WTVQ) – As most high school students do, Paul Underwood lived for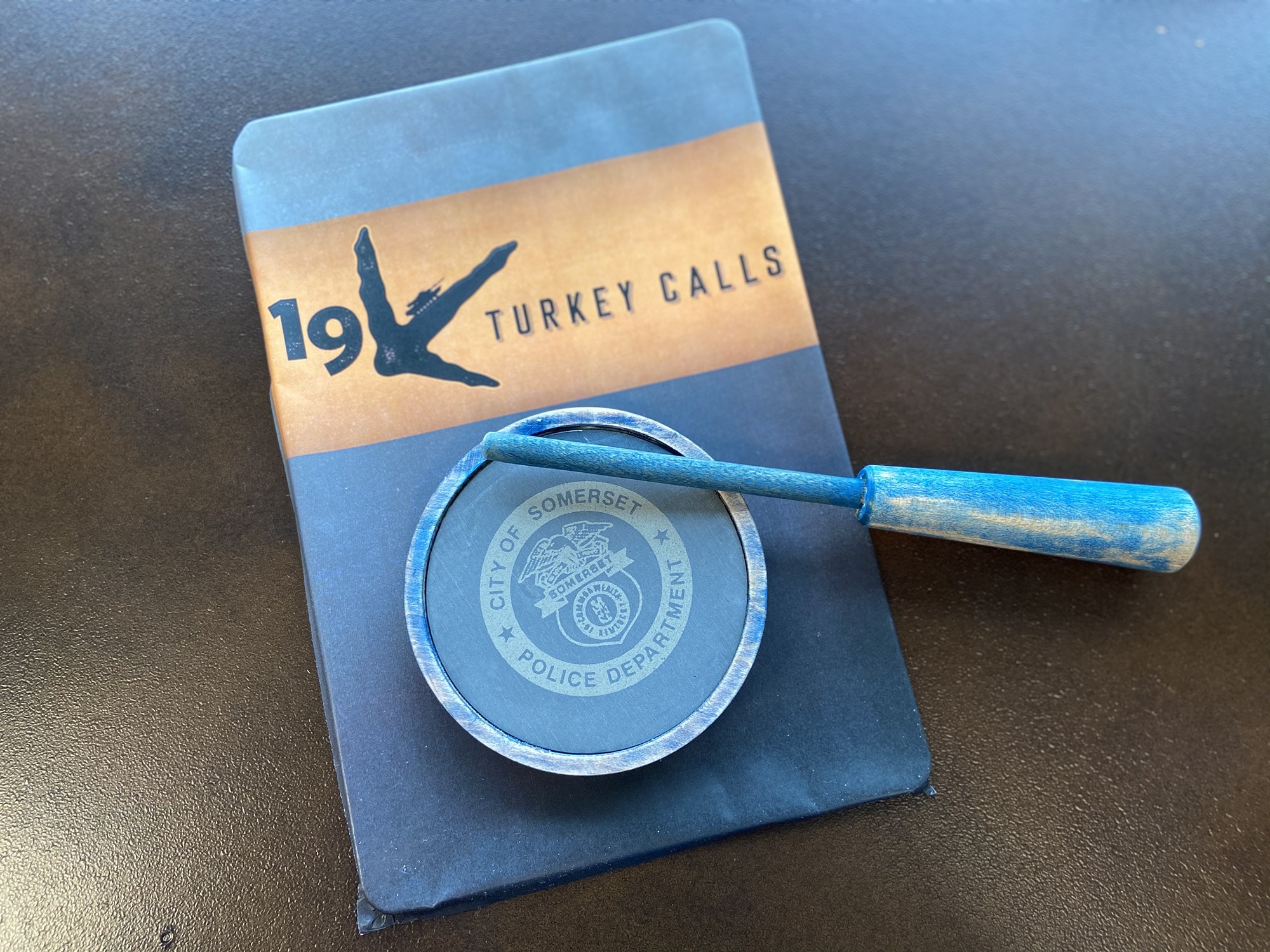 Fridays when he was a teenager.
He'd go grab something to eat at Druther's, then a popular fast-food chain in Kentucky, and head out on the Jon boat with his dad for two or three hours of fishing.
They spent a great deal of time together deer hunting, rabbit hunting, squirrel hunting and fishing in those days — a love of the outdoors he has since passed along to his own son, now 21, who is currently serving in the U.S. Army in Kuwait.
"We shoot a lot when he comes home," Underwood said of his son. "He's played with the calls; he's thrilled to death with the calls. He's expressed some interest in working with me when he comes home."
"The calls" — custom handmade hunting devices that, when used, imitate the sound of a turkey — have become a livelihood for this Somerset resident and retired law enforcement officer. After purchasing many turkey calls over the years for himself, one day Underwood began to explore the idea of making his own. He wanted to create something completely unique, something you couldn't just buy on the shelf at a big box store.
"I've got 50 of them at home, and I just got to the point that I thought, 'You know what, I can make that,'" Underwood said. "I started playing around with it and it sounded good."
It wasn't long before a new business venture, 19 Kilo Turkey Calls, was born — an endeavor fueled by Underwood's passion for the outdoors, his love for his son, and his desire to give back to others who have made the choice to serve the in U.S. military. It's an entrepreneurial pursuit that in 2020 was awarded a Somerset-Pulaski Economic Development Authority (SPEDA) mini-grant to further enhance its growth.
Each 19 Kilo turkey call is made by hand, a circular wooden pot with a friction surface of slate, glass, aluminum or copper. Customers can choose the wood for their pot — black walnut, oak, mahogany or cherry — and the friction surface when they order their device.
Customers can also choose to apply a logo or graphic to slate surfaces — a recently added detail that provides true customization and has helped Underwood's business take off. With the help of laser engraving services from The Holler Creative in Corbin, he has designed custom turkey calls for local companies like Ford Brothers Auctioneers, Weddle Enterprises, Kentucky State Police and the Somerset Police Department. "It's been unbelievable," he said.
But that's not even the best part. The name of the business was inspired by Underwood's son, an M1 armor crewman. 19 Kilo is his military occupational specialty code. With every 19 Kilo turkey call purchase, Underwood donates 10 percent of that revenue to Military Missions, an organization that prepares and sends care packages to deployed U.S. troops.
"If I can help them out by sending money to buy stuff, then that's awesome," Underwood said with a smile. "It's the little things that those deployed guys want, that you don't even think about. The only thing my son has asked for is Lay's sweet heat potato chips. It will mean the world to him to get them."
He's been able to give back to the military with revenue generated from nearly 200 turkey calls produced and sold since starting his business, but Underwood expects his rate of production to increase. The $2,500 SPEDA mini-grant has put 19 Kilo in a position to succeed that Underwood said he doesn't think he would have had without it. Grant funds enabled Underwood to purchase a mouth call press, allowing him to diversify by producing another type of turkey call — and faster. A mouth call that would take 15 to 20 minutes to make by hand can now be made in less than two minutes with this new equipment. "It has boosted production tremendously," he said.
This gift of time allows Underwood to focus on developing a new type of friction surface, fiberglass resin, that he hopes will be in production soon. And it has allowed him to open that door to design customization, creating a truly unique turkey call for each and every customer. He's now saving money to purchase his own engraver.
"Coming from state government my whole life, I didn't have that real strong business background," Underwood said. "To get a business going is very expensive. I had laid out a one-and-a-half to a two-year timeline for me to do it on my own. When the SPEDA grant came out and I put in for it and was lucky enough to win it, it accelerated the growth of my business ten-fold."
More importantly, the SPEDA grant has allowed Underwood to continue doing something that makes him happy.
"If you're passionate about something and you enjoy it, you can make a business out of it," Underwood said. "It's going to be harder than you ever thought and more time consuming than you ever thought. But you can do it."
Visit 19 Kilo Turkey Calls online at https://19kturkey.com/ and follow on Facebook @shockandcall.