Running Through History – KY History Half Marathon
Frankfort, Ky – The Kentucky History Half marathon takes to the street of Frankfort on September 24. The 5K and 10K races kick off at 8:00 a.m. with pre-registration beginning at 6:30 a.m. For more information go to www.kyhistoryhalf.com. ABC 36 is a proud media sponsor of the Kentucky History Half Marathon.
While the Kentucky Historical Society's mission is to educate and engage the public through Kentucky's history in order to confront the challenges of the future, we realize that running a challenging 13.1-mile course requires a focus on the present rather than on our historical surroundings. That is why we have prepared this handy guide to several of the important historical sites along the annual Kentucky History Half Marathon.
The brand new half marathon is a veritable running history of Frankfort, the commonwealth's capital since shortly after Kentucky became a state in 1792. Five commissioners were appointed on June 20 of that year to choose a location for the permanent seat of Kentucky state government. Customary at the time, hopeful towns—including Legerwood's Bend, Delany's Ferry, Petersburg, Louisville, Lexington, Leestown and, yes, Frankfort—offered lists of contributions.
Like a gifted runner, Frankfort won by perseverance. And, according to early histories, the offer of a log house (to be used as a capitol for seven years), several town lots, £50 worth of locks and hinges, 10 boxes of glass, 1,500 pounds of nails, and $3,000 in gold.
Starting Line

The Kentucky History Half Marathon starts on Ann Street right next to the Thomas D. Clark Center for Kentucky History. Covering almost an entire block of downtown Frankfort, the center has been headquarters for the Kentucky Historical Society since 1999, providing space for permanent exhibits, museum and archival storage, educational activities, offices and special events. Its namesake, the late Thomas D. Clark, was a former state historian and an instrumental partner in the building's planning and development.
After the starting cannon booms, runners will make their way down Ann Street and take a right on Mero Street in front the Kentucky Transportation Cabinet. Mero turns into Holmes Street at "Nexus," an impressive steel sculpture by Tony Higdon and Erica Strecker. Race participants then take a right on Regan Street, which curves around to High Street near the Kentucky State Office. That's where they will pass near Frankfort's First Baptist Church.
First Baptist Church

The First Baptist Church was established in 1833. Prior to that time black and white churchgoers worshipped together, but that year some leaders of the white Baptists thought it would be wise to separate and First Baptist Church became two congregations. The black congregation worshipped in various homes until 1844 when John Ward donated land to build a church. In 1898 the congregation wanted to build, but the city sought to block construction of the new church. After a lengthy legal battle, in 1903 the Court of Appeals granted an historic victory to First Baptist Church. Construction at the Clinton Street location began in 1904 and was completed the following year.
Still running on High Street, runners will pass the Old Governor's Mansion at High and Clifton Streets.
The Old Governor's Mansion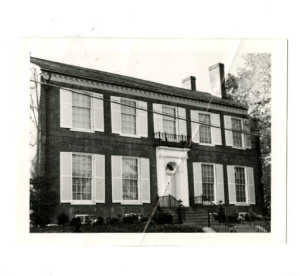 From 1797 to 1914, the Old Governor's Mansion was home to 33 Kentucky governors during their terms of office and the scene of elaborate political and social functions. Personifying the upward possibilities of the new nation, the man who laid the stone foundation of the mansion, Thomas Metcalfe, later occupied it as Kentucky's 10th governor from 1828-32. After the construction of the Kentucky's Executive Mansion on the New Capitol grounds, the home was not used from 1914 to 1956, before it was renovated and made into a residence for Kentucky's lieutenant governors.
From High Street, runners will then take a right onto Broadway and run by the site of Paul Sawyier's boyhood home on the right.
Boyhood Home of Paul Sawyier

Paul Sawyier was a famous landscape watercolorist and portrait painter who perfected several atmospheric techniques while painting Frankfort, Elkhorn Creek and the Kentucky River. His parents, Ellen and Dr. Nathaniel Sawyier, moved to the area in 1869 from Ohio. The artist attended local schools before painting in Cincinnati, New York and parts of Kentucky. He died in New York in 1917. Of his 3,000 paintings, only 300 survive today.
On the left at Broadway and High Streets, the runners dash by the old Frankfort Union Station on the left.
Frankfort Union Station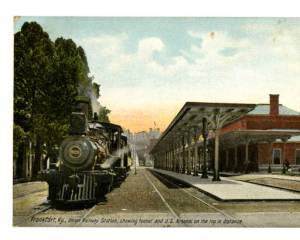 Built by L&N Railroad in 1908, Frankfort Union Station replaced the Lexington & Frankfort Railroad depot that had been there since the 1850s. Lexington & Frankfort was the first railroad in Kentucky. The present station was used by L&N, Chesapeake & Ohio, Frankfort & Cincinnati and Kentucky Highlands rail roads. The last scheduled passenger train left the station on April 30, 1971.
Continuing down Broadway, near the one-mile mark of the race, runners then will stride by the site of an 1864 attack on Frankfort by Confederate troops.
1864 Attack on Frankfort

It was John Hunt Morgan's last raid, and a large Confederate cavalry force moved into Kentucky to tie down Union soldiers and obtain horses. After telegraph and rail lines were cut, a small force was sent to Frankfort on June 10 to attack Fort Boone, which overlooked the town. Slaves building outer defenses for the fort were ordered away to prevent their capture. The fort was defended by a small force of militia and notable volunteers including Gov. Thomas Bramlette, future U.S. Supreme Court Justice John M. Harlan and General D.W. Lindsey. They held their ground. The next day, an attack from the south side of the river was beaten back, and the Confederates retreated to Georgetown.
Still farther down Broadway, the runners will approach one of the most historic and important properties in Kentucky, the Old State Capitol.
Old State Capitol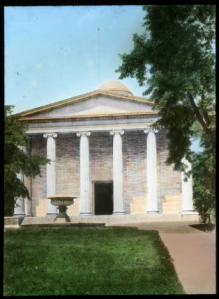 Made of Kentucky River marble, the Old State Capitol was Kentucky's third capitol building on the site when it was constructed between 1827 and 1829. The two previous capitols were destroyed by fire. One of the state's most distinguished architects, Lexington's Gideon Shryock, designed the building, which introduced Greek Revival style to Kentucky. Featuring a spectacular, self-supporting, stone circular stairway, the building was Shryock's masterpiece and served as seat of government for 80 eventful years. Daniel Boone and his wife, Rebecca, lay in state there in 1845 before their re-interment in Frankfort Cemetery. In September of 1862, it briefly became the only state capitol to be captured by Confederate troops during the Civil War. (The state government moved to Louisville shortly before the invasion.) A month later, the Confederate force withdrew and Union forces again occupied Frankfort by Oct. 7, 1862. The Old State Capitol was restored from 1973 to 1975 and is now a museum.
As the runners continue by the Old State Capitol grounds, they will pass the site of the Inauguration Elm, where governors were inaugurated during Kentucky's first century of statehood. They also will run by the site of one of Kentucky's most infamous historic events, the assassination of Gov. William Goebel.
Gov. William Goebel Assassinated

Gunned down on the State House grounds, Jan. 30, 1900—the day before he was to be sworn in—William Goebel served as Kentucky's 34th governor for only four days and remains the only state governor in the United States to be assassinated while in office. Known as a shrewd, abrasive and somewhat ruthless politician, Goebel earned nicknames such as "Boss Bill" and "William the Conqueror." His sometimes harsh personality made him many political enemies, but his fervor for populist causes also won him many friends. In the Kentucky gubernatorial election of 1899, Goebel, a Democrat, narrowly defeated Republican William S. Taylor. Many feel the election was so close because Goebel divided the Democratic Party at a time when Republicans were gaining strength in the state. It was under these politically hostile conditions that Goebel was shot down by an assassin, who was perched across the street from the State House in the private office of the then Secretary of State. The governor's last words, etched on a statue that now stands at the place of his murder, were: "Tell my friends to be brave and fearless and loyal to the great common people." Every one charged in connection with the murder was either acquitted or pardoned, and the identity of his assassin remains uncertain.
After ducking past the hail of bullets, our runners will press on down Broadway along the front of the Old State House. There are several historical markers on the grounds, including one dedicated to Revolutionary War veterans who served Kentucky as governor or senator.
Veterans of the American Revolution Elected Governor of Kentucky

Isaac Shelby, 1792-96, 1812-16; Col., Va. Militia
James Garrard, 1796-1800, 1800-4; Col., Va. Militia
Christopher Greenup, 1804-8; Col., Va. Militia
Charles Scott, 1808-12; Brevet Maj. Gen., Cont. Army
George Madison, 1816-died same year; Capt., Caroline Militia, Va.
John Adair, 1820-24; Brig. Gen., S.C. Line
Veterans of American Revolution Elected U.S. Senator from Ky.

John Brown, 1792-1805; Private, Va. Militia
John Edwards, 1792-95; Drummer, Pa. Line
Humphrey Marshall, 1795-1804; Capt.,Va. Militia
John Breckinridge, 1801-5; Subaltern, Va. Militia
George Walker, 1814; Pvt., Morgan's Rifle Corps
John Adair, 1805-6; Brig. Gen., S.C. Line
Runners will also pass a marker honoring Gov. George Madison, the first Kentucky governor to die in office.
Gov. George Madison (1763-1816)

A youthful Revolutionary War soldier from Virginia, George Madison was appointed auditor of Kentucky public accounts and served some 20 years. His heroic service in the War of 1812 propelled him to the governorship in 1816, but he died shortly after taking office. He was the first Kentucky governor to die in office and is buried in the state section of the Frankfort Cemetery.
After moving past the Old State House, runners will proceed down Broadway past a beautiful mural depicting Kentucky horse country. They will turn left on Wilkinson and soon pass two historic homes.
Gerrard/Crittenden House

This early 19th century house is architecturally notable for its brick and log construction, with its series of timbers filled in with brick and mortar and covered with clapboard, a technique uncommon to central Kentucky. The house has been owned by several prominent Kentuckians, including the Thomas L. Crittenden and James Gerrard families. It was acquired by the Commonwealth in 1973.
Next the runners will come to the National Historical Landmark, Liberty Hall.
Liberty Hall: National Historical Landmark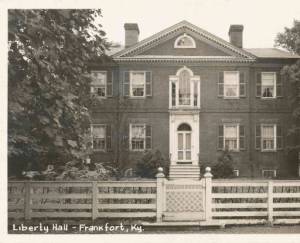 This Georgian mansion was started in 1796 by John Brown and named for the Lexington, Virginia academy he attended. Brown (1757-1837) was a member of the Constitutional Congress and one of Kentucky's first two U.S. senators. He served in the Revolutionary War under Gen. George Washington and was an aid to Gen. Lafayette. After reading law with Thomas Jefferson, Brown came to Kentucky and purchased the square on which Liberty Hall sits from Andrew Holmes. In 1799, he married Margaretta Mason of New York and brought her to Frankfort in 1801. In 1810 Margaretta, along with Elizabeth Love, began the first Sunday school west of the Alleghenies in the garden of Liberty Hall. Guests to the home have included James Monroe, Zachary Taylor, Andrew Jackson and Lafayette.
Veering left onto W. Main Street from Wilkinson Blvd., runners will pass the historic First Presbyterian Church on the left.
First Presbyterian Church

Organized in 1815, Frankfort Presbyterians built their first denominational church in 1824 on Wapping Street near St. Clair. This was an outgrowth of the Sunday school that was started by Margeretta Brown in Liberty Hall's garden. The present modified Gothic church was built in 1849 under the guidance of the Rev. Stuart Robinson. During the Civil War, the church remained united because of strong Union sympathies.
As the runners cruise down W. Main Street, they will go by the home of eminent Kentucky statesman John Jordan Crittenden.
Crittenden House

John Jordan Crittenden (1787-1863) lived at the house from 1819 until his death in 1863. In a storied political career, he was elected five times to the U.S. Senate, served as Kentucky's 15th governor, and was U.S. attorney general under three presidents. He was noted for the Crittenden Compromise in 1860, a futile effort to avert Civil War and preserve the Union. His last words: "Let all the ends thou aimest at be thy country's, thy God's and truth's." The Crittenden House was built in 1800 by Dr. Joseph Scott on land once owned by Aaron Burr. Several important guests visited the house including Daniel Webster and his family in May 1837 and President-elect Zachary Taylor in February of 1849 on his way to his inauguration.
Next on the runners' tour of historic homes along W. Main Street is the Morehead House near Main and Washington streets.
Morehead House

Built in 1810, the Morehead House was home to six prominent Kentuckians in the decades before the Civil War. Among them included: John Harvie, president of the Bank of Kentucky, and Charles Morehead, who served as Kentucky governor from 1855 to 1859. Railroad developer and long-time local merchant Lawrence Tobin acquired the home in 1874 and it was held by his heirs until 1961.
Next, runners will go by the John Goodman House. (Not THAT John Goodman.)
John Goodman House

In 1801, John Goodman moved his furniture factory from Lexington to Frankfort where, in his house, he produced the first Kentucky-made piano. He made it for the daughter of Gov. James Garrard, who displayed the piano during their Christmas dinner in 1801. This piano is now on display at the Liberty Hall Historic Site.
Approaching the intersection of Main and Anne Streets, runners will pass perhaps the most important location in local Frankfort history—the Weisiger House.
Captain Daniel Weisiger III (1763-1829)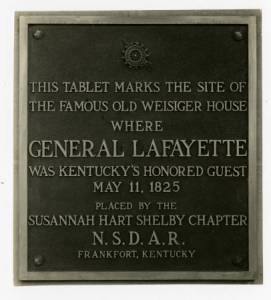 An early Frankfort merchant, farmer, county clerk, city trustee, the city's first postmaster and the first master of the Hiram Masonic Lodge, Daniel Weisiger was an important city father during Frankfort's early development. He married Lucy Price and fathered 10 children, including Dr. Joseph Weisiger—the first white male born in the city—and three Civil War generals. Tunstall's Tavern was enlarged in 1790s to become the Weisiger House, or "at the Sign of the Golden Eagle." For years, it was an important social and political gathering point in Frankfort. On May 9, 1825, a grand ball was held there to honor Gen. Lafayette. After Daniel Weisiger's death, Lucy managed an inn and stage stop at the house for more than a decade. The city bought the property in 1852 and built the Capital Hotel.
Also in this area of Frankfort, the runners will run close to two more historic sites just down Ann Street—the Hiram Masonic Lodge and First Christian Church.
Hiram Lodge #4 F. & A.M.

Chartered on Dec. 11, 1799 by Virginia as Hiram Lodge No. 57, the Masonic lodge was renamed Hiram Lodge No. 4 on Sept. 8, 1800 when the Grand Lodge of Kentucky was formed. Past members of the lodge include Richard M. Johnson, U.S. vice president, 1837-41; Amos Kendall, U.S. postmaster general, 1835-40; Col. John Allen, grand master, killed in the War of 1812; Judge George M. Bibb, Kentucky Court of Appeals and U.S. Senator.
First Christian Church

Organized on Dec. 2, 1832 by noted minister and educator Philip S. Fall, the First Christian Church in Frankfort held services in various locations until 1842 when the first church was erected at the site. The famous 19th century church reformer Alexander Campbell once preached at the church. It burned in 1870. Emily T. Tubman gave money to build a second church, which was completed in 1924.
The runners continue past Ann Street on Main Street and go by the John Hampton House, which is on the left.
John Hampton House

The earliest surviving stone house in the city, the John Hampton House was built before 1840. It is constructed of patterned river limestone with jack arches over windows and doors. The builder, Hampton, was a tavern owner who was operating in the area by 1818. His licenses extended into the 1820s, and several of his family members owned and operated taverns. The house was later the home of Col. Mason H. P. Williams, the Franklin County sheriff. He entertained Judge John M. Elliott of the Kentucky Court of Appeals in the house the night before the judge's assassination across the street at the Capital Hotel on March 26, 1879.
Leaving the Hampton House in their wake, the runners then take a right on Capitol Avenue and head toward the new Capitol Building. As they near the building, they will pass close to a marker honoring Emma Guy Cromwell, a pioneer in Kentucky politics.
Emma Guy Cromwell (1865-1952)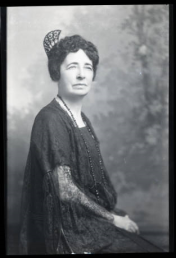 Cromwell became the first woman in Kentucky elected to statewide office when she became secretary of state in 1923. Though she called Simpson, Allen and Warren counties "home," Cromwell lived her adult life in Frankfort where she served in many, varied capacities during a long career in politics. Early in her career, in 1896, she was appointed by the Legislature to be state librarian. She was elected state treasurer in 1927. She was also director of state parks and director of archives. Cromwell encouraged women to follow her in "blazing a trail for a new day for women when they can stand side by side with men in governing our great country." She died in Frankfort in 1952.
Rising before the runners as they make their way will be the 105-year-old "New Capitol" building.
New Capitol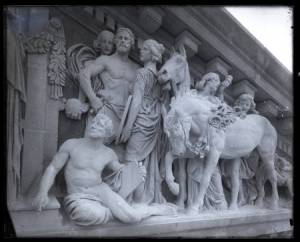 Due to overcrowding and disrepair in the Old Capitol, Gov. J.C.W. Beckham promoted construction of the new building in the early part of the 20th century. Architect Frank M. Andrews was chosen to design it in 1904, and the cornerstone was laid in 1906. The New Capitol, which cost $1.8 million, was completed and dedicated in 1910. Its neo-classic French design features 70 ionic monolithic columns, a dome and rotunda designed after the tomb of Napoleon, and white marble stairs with banisters inspired by those in the Paris Opera House. The north pediment of the building shows a heroine—Kentucky—with Progress, History, Law, Art and Labor as attendants.
As the runners enter the Capitol Grounds, they will come near the site of an infamous Civil War incident.
Civil War Reprisal

After a Union supporter, Robert Graham of Peaks Mill, was murdered in 1864, four innocent Confederate prisoners were executed at the site in reprisal. All of the prisoners—Elijah Horton, Thomas Hunt, John Long and Thornton Lafferty—were Kentuckians.
After circling around the back of the Capitol Building, race participants run by Kentucky's beautiful Executive Mansion.
Kentucky's Executive Mansion

Patterned after Marie Antoinette's villa, the 25-room, limestone Executive Mansion became the state's second governor's residence in 1914. Gov. James B. McCreary, chair of the Sinking Fund Commission, guided the two-year, $95,000 construction project. The mansion, which has been renovated several times, is on the National Registry of Historic Places.
Back on Capital Avenue—but now heading away from the Capitol Grounds—the runners will pass near the site of a once famous candy operation.
Ruth Hanly Booe (1891-1973)

Friends Ruth Hanly Booe and Rebecca Gooch left teaching in 1919 to start Rebecca-Ruth Candy, operating out of the barroom of the Frankfort hotel, which had been closed due to Prohibition. They were very successful. Gooch sold her half of the business in 1929 to Booe, who was now a widow. Booe is credited as the inventor of the world-famous "Bourbon Ball" as well as the "Mint Kentucky Colonel." Her business savvy saw the company through all kinds of misfortune and mayhem, including a factory fire, the Great Depression and sugar rationing during World War II. She remained active in the business until 1964.
The runners face the biggest physical test of the Kentucky History Half Marathon when they take a right on U.S. 60 and climb nearly a half mile up a relentless, winding hill. At the bottom of the hill, they will run by the State Arsenal.
State Arsenal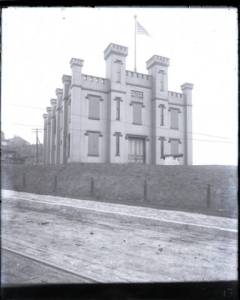 The State Arsenal was built in 1850 to replace the previous Arsenal on the Old State House grounds that burned in 1836. Twelve years after its construction, the new Arsenal was seized by Confederates in September of 1862 but was recaptured by Union soldiers a month later. It was also the scene of a second skirmish in 1864. Fire destroyed the building in 1933, but the outer walls remained intact. It was rebuilt later and used by the Department of Military Affairs before its conversion into a Military History Museum in 1973.
Waiting for the runners at the top of the hill is historic Frankfort Cemetery and the race's stunning "Mile of Remembrance."
Mile of Remembrance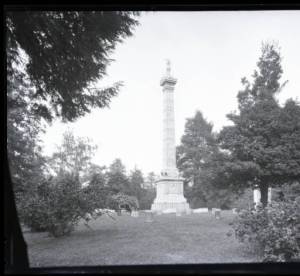 One of the highlights of the first annual Kentucky History Half Marathon will be the "Mile of Remembrance" through beautiful and historic Frankfort Cemetery. Just over 4 miles into the 13.1-mile course, after a challenging climb up U.S. 60, runners will enter the South's first "rural" or "garden style" cemetery. With sweeping views of the Kentucky River and Frankfort lying below, participants will run by the final resting places of iconic pioneer Daniel Boone and his wife, Rebecca, as well as numerous other notable Kentuckians.
Incorporated in 1844, the cemetery was the inspiration of Frankfort community leader John Brown after a visit to Boston's Mount Auburn Cemetery. Brown returned to Frankfort and set out to establish a community cemetery that would double as a public park and the state's first arboretum. The 32-acre property, then called Hunter's Garden, was purchased in 1845 for $3,801. To design the cemetery, Brown hired Scottish-born landscape architect Robert Carmichael, who created a style similar to Mount Auburn, with curving lanes, terraces and a circle of vaults.
The first burials were that of iconic pioneer Daniel Boone and his wife, Rebecca, in 1845. Their remains had been brought back from Missouri and reburied. A monument was placed there in 1860—a "tribute to that outstanding frontiersman and his wife, who pioneered in carving out a wilderness empire" that is now Kentucky. Other famous Kentuckians buried in the cemetery include artists Paul Sawyier and Robert Burns Wilson, Henry Clay Jr., Joel T. Hart, Rev. William Hickman, Theodore O'Hara and Vice President Richard M. Johnson as well as 17 Kentucky Governors.
A central feature of the cemetery is the "State Mound," which honors all those Kentuckians who have fallen in defense of our country. The Mound features an 1865 Military Monument designed by the father of American monument art, Robert E. Launitz.
As the runners traverse the "Mile of Remembrance," they will pass close to the Frankfort State Hospital and School Cemetery on Glenn's Creek Road.
Frankfort State Hospital and School Cemetery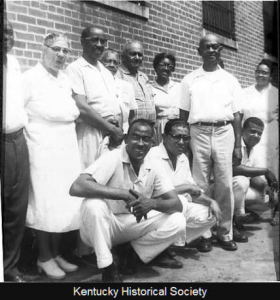 In 1860, the Kentucky State Legislature established the unfortunately named "Kentucky Institution for the Education and Training of Feeble-Minded Children." In the 1940s, the name was changed to the Kentucky Training Home. Adults were admitted and housed along with the children due to overcrowding. With a capacity of 616, the number of residents eventually grew to 1,129. By 1963, the institution's name was changed to Frankfort State Hospital and School. Many residents spent their entire lives at the institution, working as unpaid staff. More than 411 people are buried in the cemetery on the grounds, with most graves marked "unknown."
What goes up must come down: Leaving the cemetery, the runners will turn left and head back down U.S. 60—literally down—as they give the controls over to gravity and make their way back to Main Street, this time heading toward Kentucky River, eventually arriving at Kentucky River View Park.
Kentucky River View Park

A cooperative project of several local and state agencies, Kentucky River View Park runs along both banks of the Kentucky River alongside Wilkinson Street in downtown Frankfort. Several trail-side panels tell about Frankfort's many connections to the Kentucky River, and guided tours are available seasonally as well. Runners will go by a memorial stone commemorating the junction of Kentucky's three original counties at the mouth of Benson Creek, a Kentucky River tributary.
Runners will take the Kentucky River View Park trail along the river and then up along Wilkinson Boulevard where they will pass the historic Glen Willis home.
Glen Willis

The double two-story log house Willis A. Lee Jr. built at the site in 1793 was on a tract of land given to him by his uncle, Hancock Lee, who was founder of Franklin County's first settlement, Leestown. In 1815 Lee erected a story-and-a-half brick house, "Glen Willis," on the same site and resided there until his death in 1824. Eight years later, the Lee family sold "Glen Willis" to Humphrey Marshall, a Kentuckian who had lived quite a colorful life. Marshall had been an officer in the Revolutionary War, a lawyer, extensive landowner, legislator and Federalist leader. In 1809 he fought a duel with Kentucky icon Henry Clay over political differences during which both men were slightly wounded. He also wrote one of the earliest histories of Kentucky.
Also along Wilkinson Boulevard, runners will run by an area that used to be active in hemp production.
Franklin County Hemp

Hemp was the first crop grown widely in Kentucky, dating back to 1775. From 1840 to 1860, Kentucky's hemp production was the largest in United States, peaking in 1850 with 40,000 tons valued at more than $5 million. Scores of factories along Kentucky rivers made twine, rope, gunny sacks, bags for cotton picking and marketing. Hemp remained the state's largest crop until 1915. The runners will go by the old site of Kentucky River Mills, a company that began making hemp yarns for the backs of Brussels carpets in 1878, and started producing binder twin in 1879. The mill employed 125 people year round. In 1941, the company received a contract from the Navy for $148,500 worth of marine oakum. This was the last hemp factory to operate in Kentucky, closing down in 1952.
Next, runners will go by the site of the old Leestown settlement.
Leestown

Leestown was an early pioneer stopping place when it was first surveyed by the McAfee Company and Hancock Taylor in 1773. It was soon settled and named by Hancock and Willis Lee, and then officially established by the Virginia Assembly in 1776. After an attack by local Native Americans, Leestown was briefly abandoned in 1777 but was soon reestablished and became a well-known shipping port for tobacco, hemp, corn and whiskey to New Orleans market. At one time, Leestown was a commercial center and a contender to be Kentucky's state capital.
Before turning back and retracing their steps on the trail, the runners will arrive at Buffalo Trace Distillery—National Historic Landmark.
Buffalo Trace Distillery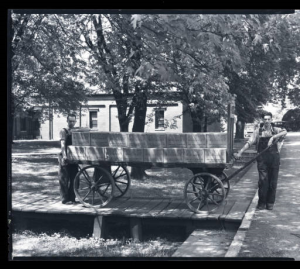 At the entrance of Buffalo Trace is a historical marker recognizing the O.F.C.-Stagg Distillery, which was established by distilling industry legend E.H. Taylor Jr. in 1869. By 1878, it was purchased by George Stagg and renamed George T. Stagg Distillery in 1904. During Prohibition, it was one of the few distilleries in the country granted a federal permit to bottle medicinal whiskey, allowing it to remain open. The distillery was purchased by Schenley Distillers Corp. in 1929 and was greatly expanded and modernized throughout the 1930s. Sold again in 1992, it was renamed Buffalo Trace Distillery in 1999. Two years ago, Buffalo Trace was designated as a National Historic Landmark as an exceptional distillery complex that contains a unique collection of historic buildings and structures.
After turning around and returning back down the river trail, the runners finally arrive back at West Broadway, where they will go by the home of a noted early-19th century journalist and politician.
Amos Kendall

A Massachusetts native, Amos Kendall migrated to Kentucky in 1814 and spent one year with the family of Henry Clay, who was his tutor. From 1816-28, Kendall resided in Frankfort as editor of the Argus of Western America. First a supporter of Clay, he later promoted Andrew Jackson and helped carry Kentucky for him 1828. He moved to Washington D.C. with the Jackson administration in 1829 and joined a group of close presidential advisors known as the "Kitchen Cabinet." He gained wealth as a business agent for Samuel F. Morse from 1845-1869, and his generous donations helped found a school for the deaf and mute, which later became Gallaudet College in Washington D.C.
Finish Line

Wrapping up their historic tour of Frankfort, the runners head down West Broadway, take a left on Ann Street, and finish where they started.
(Much of the information gathered for this historical guide to running the first annual Kentucky History Half Marathon came from Kentucky Historical Society Highway Markers. There is even a marker on the Old State House grounds dedicated to W.A. Wentworth, the "Father of Kentucky Historical Society Highway Marker Program." After a full career of public service, Wentworth directed rapid expansion of the Kentucky Historical Highway Marker Program from 1962 until his death in 1971. Under his leadership, markers were erected in every county with more than 1,100 in the state.) ABC 36 is a proud media sponsor of the KY History half Marathon.