Real estate prices set record for third straight month
LEXINGTON, Ky. (WTVQ) – Real estate prices surged to another all-time high, following the previous month's record.
May's median prices marked the third straight month of record prices and hit $227,750 for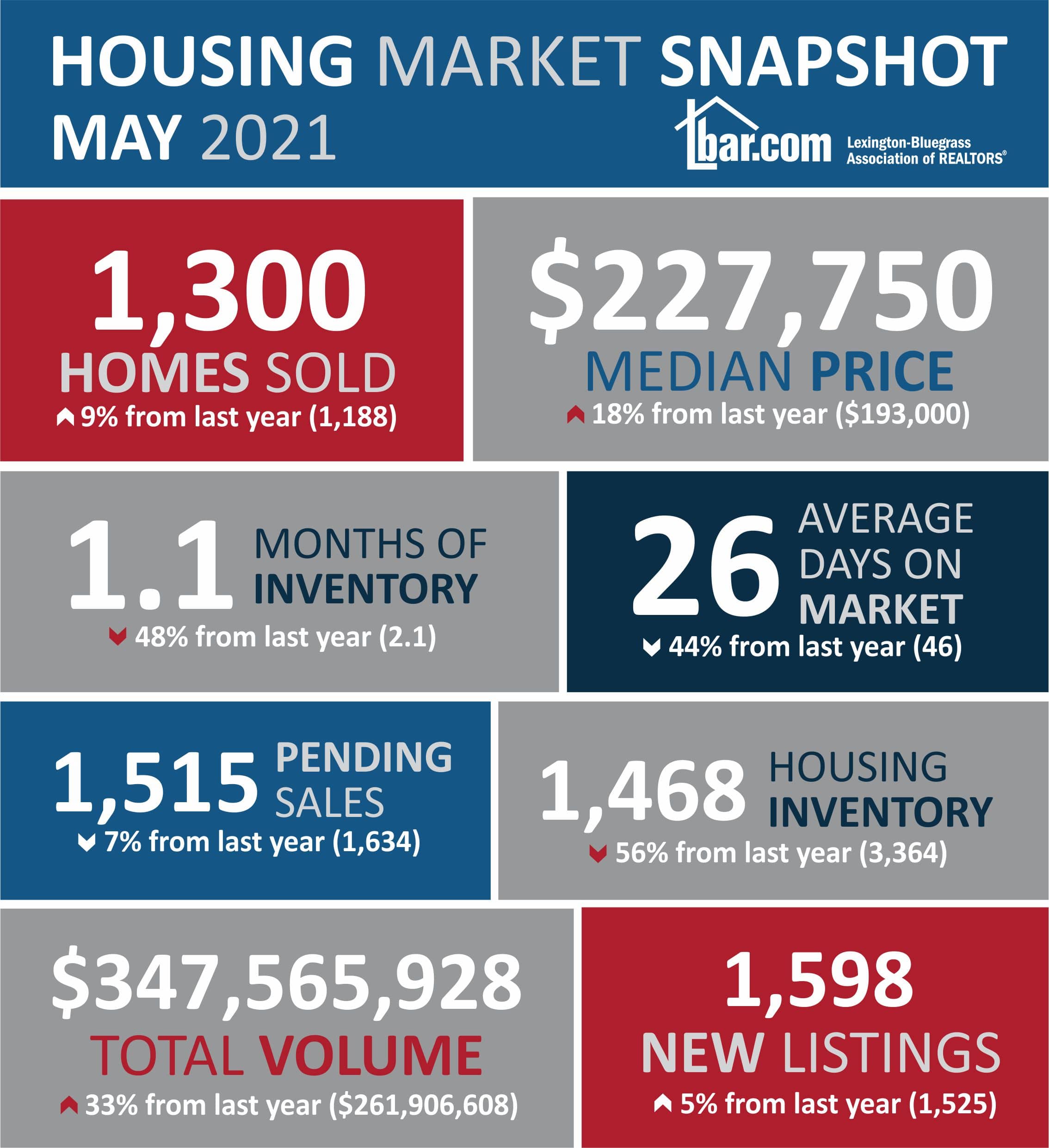 the month, an increase of 18 percent over last year's $193,000 and up 5 percent from last month's record of $218,000.
May was the 11th consecutive month of double-digit increases and the 27th straight month of overall price increases year-over-year. Single-family homes increased 19 percent to $230,000 while townhouse/condo prices jumped 18 percent to $198,865 (May 2021 Stats).
Year-to-date, median prices for all residential sales stood at $213,000 compared to $186,125 in 2020, an increase of 14 percent.
Total dollar volume of home transactions jumped 33 percent in May to an all-time monthly high, with over $347 million for the month, compared to just over $261 million last year. For the year, total sales volume has reached just shy of $1.4 billion.
"Local demand is pushing prices into new highs each month," said Kristy Gooch, president of the Lexington-Bluegrass Association of Realtors® (LBAR). "In May, we saw showings jump over last year as buyers continue to navigate the market with extremely tight inventory levels."
Showings in May were up 9 percent from last year and hit the second highest levels on record, following two consecutive all-time highs. This year, there were 24,958 showings compared to 22,870 in May 2020.
The increase in demand translated into a higher number of home sales for the month. May saw home sales increase 9 percent over last year, which was the final month that saw a market slowdown due to the pandemic.
This year, 1,300 total properties sold, compared to 1,188 in May 2020. Single-family homes increased 12 percent with 1,238 sales while townhouse/condo sales dropped 25 percent, with 62 sales making up only 5 percent of the total market for the month.
Total sales through May were up 11 percent from 2020, with 5,665 transactions closed in the first 5 months of 2021, compared to 5,121 during the same period last year.
New construction home sales dropped year-over-year for the second straight month, with May sales standing at 112, a decrease of 10 percent over the 125 sales in 2020. However, the May figure was 29 percent higher than the previous month when 87 new homes were sold.
"Buyers are realizing the challenges to finding and purchasing a home in today's market," said Gooch. "Multiple offer situations are the norm in most cases due to the lack of inventory available. But interest rates are still at historic lows so buyers continue to navigate the market to find a home that works for them."
Record low inventory struck again in May with 1,468 residential properties for sale. This is a 56 percent drop from the 3,364 homes available last year and is the 25th consecutive month of year-over-year declines. The May total was down less than 2 percent when compared to last month's previous record low mark of 1,490 homes for sale and was the fourth straight month of inventory levels being under the 2,000 mark.
The number of homes that hit the market saw an increase for the second month in a row, rising 5 percent over last year, with 1,598 listings this year compared to 1,525 in 2020. For the year, new listings are down slightly by 4 percent but Lawrence Yun, chief economist with the National Association of Realtors® (NAR), says the market's outlook is encouraging and "supply is expected to improve, which will give buyers more options and help tamp down record-high asking prices for existing homes."
Regarding pending sales, that would be welcome news as transactions under contract fell 7 percent, from 1,634 last year to 1,515 transactions this May.
And with more nearly as many sales closing than new listings coming online, months of inventory was held to an almost historic low of 1.1 months, down 48 percent from last year when the housing supply was at 2.1 months. A balanced market is generally defined as six months of housing supply. For the entire 26-county jurisdiction, months of inventory for homes under $300,000 was just over 3 weeks, and were on the market an average of 22 days.
For all homes, the average days on market was 26 days in May, down from 46 days last year, a decrease of 44 percent. Days on market in May were the second lowest on record, behind only the 19 days seen in December last year.
"Interest rates are holding at historic lows through the summer," stated Gooch. "This is giving buyers, who had a chance to increase their savings over the last year due to the pandemic, more purchasing power to shop for a first home or upgrade to a larger one. Therefore, staying in the market right now may pay off as many buyers are putting their search on hold due to vacations and buyer fatigue so competition may lighten as we move through the next several months."
LBAR represents more than 3,500 REALTORS® located in 26 counties: Anderson, Bath, Bell, Bourbon, Clark, Clay, Elliott, Estill, Fayette, Franklin, Harrison, Jackson, Jessamine, Knox, Laurel, Lee, Madison, Menifee, Montgomery, Nicholas, Owsley, Powell, Rowan, Scott, Whitley and Woodford counties.