UPDATE: 19-year-old woman killed in Franklin County crash
UPDATE: 11:30 a.m. Tuesday, Aug. 18, 2020
FRANKLIN COUNTY, Ky. (WTVQ) – A 19-year-old woman died in a grinding head-on crash early Tuesday morning in Franklin County.
According to the Kentucky State Police, Halle Ramos, of Georgetown, died when the car she was driving crossed the center line and hit two other vehicles, including a pickup. The accident happened just before 4 a.m.
The KSP said Ramos was pronounced dead at the scene after the 2004 Chrysler 200 she was driving eastbound hit the other two vehicles.
She has been taken to the State Medical Examiner's Office in Frankfort for an autopsy.
The two other drivers were treated for minor injuries by Frankfort EMS and released at the scene.
Franklin County Coroner William Harrod said it appears Ramos was wearing a seat belt at the time of the crash. He pronounced her dead at the scene at about 4:30 a.m.
Autopsy and toxicology were performed this morning with the final results being available in 12 to 14 weeks, Harrod said.
The investigation is being conducted by KSP Post 12 Reconstruction Unit, Trooper Jacob Guffey. He was assisted by KSP Post 12 personnel, the Franklin County Sheriff's Office, Frankfort Police Department, Frankfort EMS, and the Franklin County Coroner.
UPDATE: (8/18/20 9:30 A.M.) – The intersection at Woodlake Road and 460 is back open in Franklin County after a fatal crash Monday morning.
Kentucky Transportation Cabinet officials report the road was shutdown for a couple hours.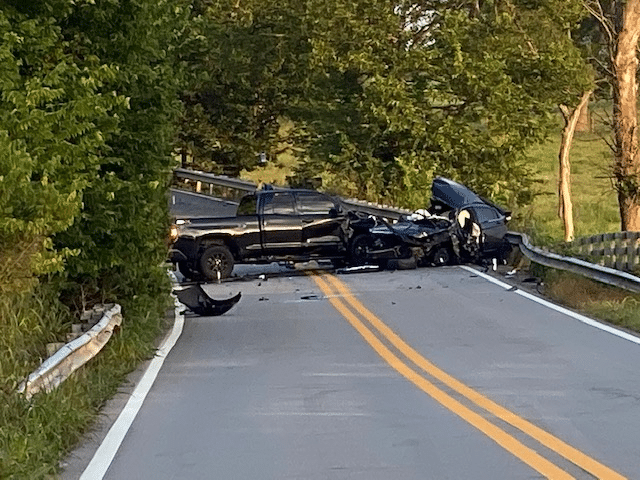 FRANKLIN COUNTY, Ky. (WTVQ) – One person is dead after a morning crash in Franklin County.
It happened Tuesday just after 4 a.m. on Georgetown Road near the intersection of Woodlake Road.
A pickup and a passenger car collided head on near a curve.
As of 7 a.m., the Kentucky Transportation Cabinet said the roadway will be closed for at least a couple more hours.
Officials have not said if any other people were hurt, but three cars were involved, according to transportation officials.