Mercer County sisters help provide free prom dresses for students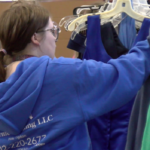 MERCER COUNTY, Ky (WTVQ)- It's a mark on the calendar that many high schools students look forward to every year: their annual prom. But for some, it can be expensive to purchase the needed items to make that night special.
That's where two sisters in mercer county are stepping in to help.
Cretia Lewis and Chasity Marshall own Two Sisters Prom Shop. On Saturday, they held their second annual prom shop at Mercer County Senior High School. The best part was it was all free.
The event was open to all students throughout the state who needed an outfit, shoes, or suits and ties for prom at no cost.
The sisters say all donations come from the community. This year, they had nearly 700 donations.
It's also one of the only free prom shops in the state.
"We never expected it to be as big as its gotten. We could not do it 100% without the community. We had put one simple post on Facebook about two years ago. And the generosity, it just blew up. It makes you feel wonderful. I could cry. It's unreal, the feeling is unreal," says Cretia.
Lewis says they take donations all year long. If you missed Saturday's event, you can schedule an appointment and they can get you in. For more information, click here.