UPDATE: Intern quits Massie's office over Holocaust tweet
UPDATE POSTED 8 A.M. FRIDAY, AUG. 27, 2021
WASHINGTON (WTVQ) – The fallout from U.S. Rep. Thomas Massie's controversial tweet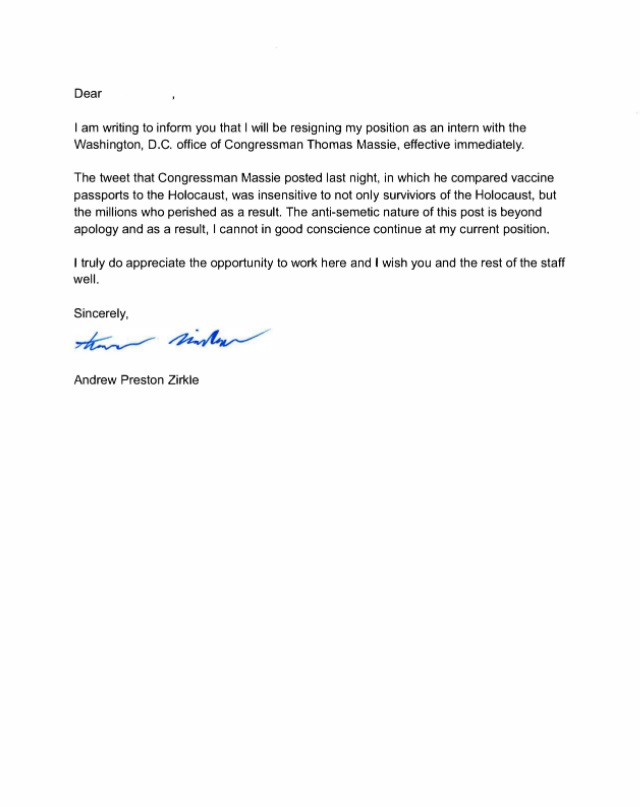 earlier this week continues.
An intern in his office resigned over it. In his resignation letter, Andrew Preston Zirkle said he could not "in good conscience" continue in his position.
His resignation was effective immediately.
WASHINGTON (WTVQ and Andrew Naughtie/The Independent) – A Republican Kentucky congressman who has many times railed against public health measures meant to combat Covid-19 has been condemned for a deleted tweet that compared vaccine passports to the Holocaust.
Thomas Massie of Kentucky took down the tweet on Wednesday night, but not before it had been screen-shotted and widely shared.
The post featured an image of a hand with a number tattooed on its wrist in the style of a prisoner at a Nazi concentration camp. "If you have to carry a card on you to gain access to a restaurant, venue or an event in your own country," it read, "that's no longer a free country."
The post drew a sharp rebuke from the state's Jewish community.
"As a Jewish leader in Kentucky, I can not remain silent at the horrific tweet by Congressman Thomas Massie of the 4th District, who compared Covid restrictions to the Holocaust, and the murder of 6 million Jews. This comparison is offensive, it's ahistorical and amoral," said Rabbi Shlomo Litvin of Lexington.
"This shameful tweet shows tremendous ignorance of public policy, history, and a horrible lack of judgment. While we are relieved the congressman deleted the ill-thought-out tweet, such comments must be repudiated.
"The Lubavitcher Rebbe, Rabbi Menachem Mendel Schneerson ,my personal mentor and the foremost Jewish leader of the modern era, spoke often about the need not only for education but for moral education. Ignorance like this lays to bare that need in our society today, and I have reached out to Congressman Massie's office with an offer to share our communities perspective and to educate. While the Congressman's office has refused to speak to Jewish leaders repeatedly in the past, we continue to hope for more representation and communication in the future. Our community deserves it.
"These positions do not in any way represent the views of most Kentuckians. The Commonwealth of Kentucky has led the effort to combat antisemitism and organizations like Kentucky Educators for Holocaust Studies lead the way in combatting such ignorance and offense," Litvin concluded.
Along with voting against many of the economic rescue measures taken under both the Trump and Biden administrations, Massie is a vocal critic of the government response to Covid-19 in general, in particular what he calls the campaign to "force" all Americans to be vaccinated against the virus, which he has more than once likened to the actions of a totalitarian state.
Massie claims not to be an anti-vaxxer, but simply an opponent of vaccine mandates. However, he is a prominent proponent of the theory that Covid-19 infections confer enough "natural immunity" on those infected that they do not necessarily need to take the vaccine.
This conflicts with messages from scientists, who say that the level of immunity in those who have had the virus is hard to predict and can in fact be very low.
Massie is not the first congressional Republican to compare public health measures to the genocidal policies of the Nazi Party. Most notorious for such claims is Marjorie Taylor Greene, the far-right freshman Georgia congresswoman who has previously been sanctioned by the House of Representatives for promulgating racist conspiracy theories and calls for violence against her political opponents.
Greene was condemned earlier this year for condemning mask mandates to the Holocaust. As the furor persisted, she visited the US Holocaust Memorial Museum in Washington, DC, giving a press conference afterwards at which she apologized for her previous remarks.
"The horrors of the Holocaust are something that some people don't even believe happened, and some people deny, but there is no comparison to the Holocaust," she said to assembled journalists. "There are words that I have said and remarks that I have made that I know are offensive and for that I want to apologize."
Chair of the Kentucky Democratic Party Colmon Elridge stated, "Once again, Thomas Massie has made a fool of himself on the national stage and embarrassed the commonwealth. Denigrating the victims and survivors of the Holocaust just to score cheap political points is ignorant, shameful, and has no place in our politics or American society. Trying to quietly delete his tweet without apologizing for his ignorant and offensive behavior? That's rock bottom pathetic. It should not fall to Kentucky's Jewish community to continuously assail these demented political games. I hope all leaders, including Massie's GOP colleagues, join us in denouncing this behavior. The Kentucky I know is and deserves better."