LexingtonCon returns to Embassy Suites
LexingtonCon included around 40 vendors offering comic books, games, magazines, jewelry and toys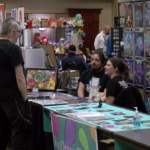 LEXINGTON, Ky (WTVQ)- Lexington's own comic convention brought in hundreds of people Sunday to the Embassy Suites Hotel.
LexingtonCon included around 40 vendors offering comic books, games, magazines, jewelry and toys.The event also featured a cosplay contest, smash bro video game tournament, and comic book legends.
Among them, Marvel comic book artist Sam Dela Rosa, who has worked on hundreds of comic books for Marvel and D.C.
His most known credit is drawing "Venom"- which has now been made into two movies. He says this is his first time in Lexington- and he's glad to be in attendance.
"It brings the community together. It's a positive event. People are here to celebrate their interests. All kinds, you know, anime, comic book, cosplay, fantasy. So it's a nice place for people to come and share their hobby," says Dela Rosa.
Organizers say Lexington Pop Con will be returning this year on May 13th to the Clarion Hotel and convention center.
<######>