Lexington Police looking for 2 men after incident involving officer on Polo Club Blvd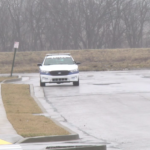 LEXINGTON, Ky (WTVQ)- The Lexington Police Department is investigating after an officer discharged his gun Sunday morning during an incident on Polo Club Boulevard.
Police say they were dispatched to the 2700 block of Polo Club Boulevard near Waterstone at Hamburg just before 5 a.m. Sunday for reports of 2 men breaking into cars.
When an officer arrived, he saw an occupied vehicle and attempted to make contact with the driver. The driver accelerated in the direction of the officer. The officer then shot at the car.
The suspect or suspects then drove off and have not been found.
The officer that fired his weapon has now been placed on administrative assignment while the investigation continues. He was wearing his body-worn camera at the time of the incident.
If you have any information about this case, you're asked to call the Lexington Police Department or Bluegrass Crimestoppers.