Julietta Market wraps up Black History Month with ball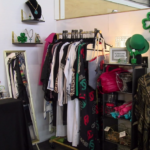 LEXINGTON, Ky (WTVQ)- Julietta Market at Greyline Station held its first "Black History Ball" Saturday to wrap up Black History Month.
The free event featured shopping, a live music d.j., and a kids dance contest. Vendors dressed up in African attire and there was also a black history trivia competition.
Vendors offered a wide range of jewelry, clothes and other homemade gifts. They say the event was a perfect place to showcase all they offer to the community.
"Black History Month means a great deal to me. I'm able to give my time and talents to represent what I'm about to the world through my wears and talent, to give homage to who I am and what I'm about," says Angel Fluker, the owner of Angelic Hearts.
The event wraps up at 7 p.m.