Jeff Ruby's employees benefit from diners Thursday
LEXINGTON, Ky. (WTVQ) – As local restaurants continue to speak out about how the latest coronavirus restrictions could impact their businesses, some employees at a Lexington restaurant are counting their blessings.
According to Jeff Ruby's in Lexington, employees were set to receive 100% of sales Thursday evening. In a Facebook post, the restaurant said the donation was to support its' employees. The post added, "This includes Dine-In, Takeout, and Delivery."
Britney Ruby Miller with Jeff Ruby's explained, "What devastating is there's 23 shifts between now and December 13 where our staff might not have that nights' earning and that's really difficult. So, we're pulling together right now to see what we can do for our staff."
Some restaurant workers fear cold weather will turn people away from outdoor dining, while others say the new restrictions will result in even more job loss. Jeff Ruby's, like many other restaurants, is turning to takeout, meal kits and even delivery.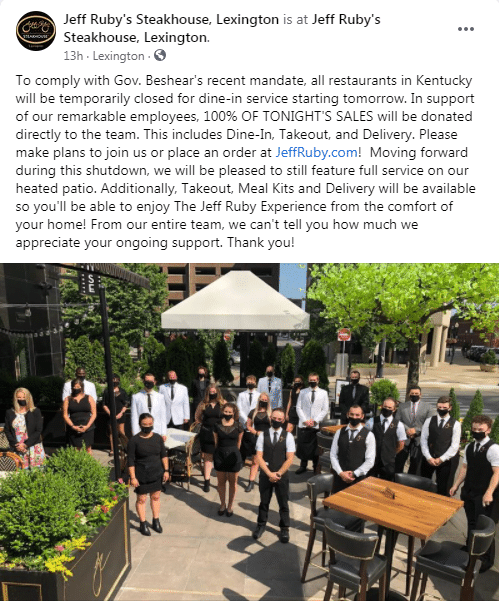 Source: Jeff Ruby's/Facebook