In social media post, FOP links violent crime to officer shortage
LEXINGTON, Ky. (WTVQ) – The Fraternal Order of Police representing Lexington officers have taken to social media to make their case of the need for more officers to fight what it says is a rising violent crime problem in the city.
It also comes as the chapter continues negotiations with the city over contracts and dissatisfaction with the pending approval of a ban on no-knock warrants over the chapter's objections.
In a post on its Facebook page Friday afternoon, the Fraternal Order of Police Bluegrass Lodge 4 said:
"The Lexington Police Department is now OVER 90 officers understaffed. This number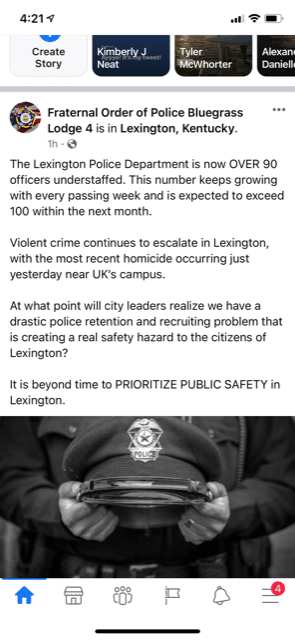 keeps growing with every passing week and is expected to exceed 100 within the next month. Violent crime continues to escalate in Lexington, with the most recent homicide occurring just yesterday near UK's campus. At what point will city leaders realize we have a drastic police retention and recruiting problem that is creating a real safety hazard to the citizens of Lexington? It is beyond time to PRIORITIZE PUBLIC SAFETY in Lexington."
The city is on track to break last year's record number of homicides in the city.
The staff losses have been happening for more than a year and come as the Urban Council has approved funding to expand the authorized strength. The budget also includes significantly more funding to expand recruitment efforts to only in police and fire but also a variety of other city departments.
At the time, the department had an authorized strength of 633 officers with 41 vacancies and still others who weren't available at that time. A new training class of 44 officers started April 12, another is scheduled in the fall and another in the spring of 2022.
In 2020, of the 64 employees the police department lost, 31 retired, 16 resigned, 16 resigned while in training, and one was terminated, according to the April presentation. The fire department had a higher retirement rate: Of 42 employees it lost, 37 retired and five resigned.
Part of the issue is the time it takes to hire and train new officers. Part of the recruitment efforts will focus on officers who already are trained and certified and can be attracted to join the force, city administrators said in the presentation.