Harrison County Middle School archery team celebrates winning third straight state title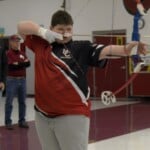 CYNTHIANA, Ky (WTVQ)- A Harrison County Middle School is celebrating after earning a monumental achievement this weekend: winning a third straight state title in archery.
To celebrate, the city held a parade throughout Cynthiana.
"It's amazing. We're all so excited about it," says archer Madaline Williams, an 8th grader.
The team placed first in two categories: Bullseye and 3D.
Some students like Williams also placed individually.
"It's amazing because I hadn't got first yet. Last year I got second, so I just keep building up to it. Me and my dad are really excited about that kind of stuff. So it was really like a really good feeling to finally achieve winning it," says Williams.
Williams has been on the state winning team each of the last three years.
She says her dad got her into archery about five years ago.
" When you hear our name get called for first, it's just like everybody's screaming and its just like my head is spinning. It's amazing. It's the best feeling ever."
The students had to rely on pure skill, mental toughness, and dedication- because there are no sights on their bows.
"I've seen very strong minded kids. This sport can bring them to their knees. It drives them crazy. But we have a lot of kids that they're just determined to be good," says Jeff Fryman, the coach.
Fryman says there were some low points of the season. He says after Christmas, scores weren't looking how they wanted them to look. So the coaches came together and helped refocus the team.
"The kids bought in, and we shot the highest score in the nation. A 3393 to this date," says Fryman.
Now with a third straight title, he explains the secret of his teams success.
"Everybody asks secrets. You know, whats Harrison County doing? First of all you gotta love kids. If you don't love kids and you don't let them know you love them, you cant get the most out of them," says Fryman.
"I hope that it like encourages people so that they can see that its actually really fun and it shows that you do have a sport that you can go to and you can goof off with," says sixth grade archer Evalee Doyle.
By the way, the archery team's next stop is Nationals in May.