UPDATE: Grand jury indicts one officer, others 'justified in use of force,' Cameron says
UPDATE, 1:45 p.m.
The death of Breonna Taylor was "uncategorically" a tragedy, but the death of Breonna Taylor also had to be reviewed under the rules of law, Attorney General Daniel Cameron.
"Officers Mattingly and Cosgrove were justified in their use of force," Cameron said in a press conference following the announcement of the Grand Jury findings.
"Sometimes the criminal law is not adequate to respond to a tragedy," he noted later.
"My heart breaks for Ms. Taylor," he added later. "I've seen that pain in the community."
He spoke with Taylor's Wednesday morning and called the talks, "difficult, very difficult," without going into details.
The two were "justified in defending themselves," Cameron added in emphasizing the law.
He also said he didn't anticipate any additional charges being filed by his office. Those would be state charges and don't include potential federal charges.
Ballistic tests determined Taylor was struck by six bullets but only one was fatal and it would have caused death by itself in a matter of seconds or two minutes at most, Cameron said.
Cosgrove fired the fatal shot, according to ballistics tests, Cameron said.
Mattingly fired six shots. Cosgrove fired 16. Hankison fired 10, some of which went into an adjacent apartment. None of the bullets he fired hit Taylor, Cameron said, citing the investigation and ballistics evidence.
He said it "part of the tragedy" that Taylor was hit and her boyfriend, Walker, was not although they were initially standing next to each other in the hallway. He would not go into detail about the bullet trajectory evidence and how Walker was not struck.
He said it was inconclusive as to how many shots from each officer struck Taylor.
Federal investigators will continue to look at possible civil rights violations in the case, including possible flaws in obtaining the search warrant that led to the shooting.
But the three officers involved were not involved in obtaining that search warrant and didn't know the details behind it.
Furthermore, an independent witness confirmed the three officers did knock and announce themselves when they went to the apartment and when they got no answer, they made the decision to breach it, Cameron said.
When asked about reporters who have talked to a dozen or people in the complex and found only one who said they heard police announce themselves, Cameron said all the evidence was presented to the Grand Jury and it made its decision after weighing all that evidence.
He did not address whether the investigation had revealed more evidence of police announcing themselves.
"They were walked through all the" homicide-related laws and made their decision," Cameron said of the grand jury and its decision.
In the end, Cameron said the public and the community must be calm in their reaction to the verdict. And he said outsiders will continue to try to say how Kentucky should react.
"I urge those protesters in the street" to remember they are Kentuckians. "We have a long road ahead," he said, vowing to be part of the healing process.
He said he will create a task force to review how search warrants are obtained and executed across the state.
He said the last interviews in the case were conducted Friday and his staff began presenting the case to the grand jury Monday.
As for how long the investigation took, Cameron said, "We didn't want to rush it and we did not," stressing the goal was to "get it right" and look at "all the evidence."
CAMERON'S PRESS RELEASE
FRANKFORT, Ky. (September 23, 2020) Attorney General Daniel Cameron today announced the completion of the Special Prosecution Units (SPU) investigation into the death of Ms. Breonna Taylor. The findings of the investigation were presented to a Jefferson County Grand Jury, and the Grand Jury indicted former Louisville Metro Police Department (LMPD) Detective Brett Hankison with three counts of wanton endangerment, a Class D felony.
The loss of Ms. Breonna Taylors life is a tragedy, and our office has worked tirelessly since receiving the case in mid-May to review all of the evidence in preparation for presenting it to an independent Grand Jury, said Attorney General Cameron. The Grand Jury determined that there is no evidence to support a criminal violation of state law caused Ms. Taylors death.The Grand Jury found that there was sufficient evidence to indict Detective Hankison for wanton endangerment for firing his weapon outside a sliding glass door and through a bedroom window, with some bullets traveling through that apartment and entering the apartment next door while three residents were at home.
During the course of the independent investigation into Ms. Taylors death, SPU conducted interviews, sought the expertise of state and federal partners, including the KSP and FBI crime labs, and spent thousands of hours examining all of the available evidence. SPU completed the last interview in the case on Friday, September 18, and began presenting the findings to a Jefferson County Grand Jury on Monday, September 21.
In the early morning hours of March 13, Sergeant Jonathan Mattingly, Detective Brett Hankison, and Detective Myles Cosgrove executed a search warrant at the home of Ms. Breonna Taylor. The officers were advised by superiors to knock and announce their presence in serving this specific search warrant.
Evidence from SPUs investigation shows that officers both knocked and announced their presence at the apartment. The officers statements about their announcement are corroborated by an independent witness who was near in proximity to Ms. Taylors apartment.
When officers were unable to get anyone to answer or open the door to the apartment, the decision was made to breach the door. After breaching the door, Sergeant Mattingly was the first, and only officer, to enter the residence. Sergeant Mattingly identified two individuals standing beside one another at the end of the hall, a male and female. In his statement, he says that the male was holding a gun, arms extended, in a shooting stance. Mattingly saw the mans gun fire, heard a boom, and immediately knew he was shot as a result of feeling heat in his upper thigh.
Mr. Kenneth Walker fired the shot that hit Sergeant Mattingly, and there is no evidence to support that Sergeant Mattingly was hit by friendly fire from the other officers. Mr. Walker admitted that he fired one shot and was the first to shoot. In addition to all the testimony, the ballistics report shows that the round that struck Sergeant Mattingly was fired from a nine-millimeter handgun. The LMPD officers fired 40 caliber handguns.
Sergeant Mattingly returned fire down the hallway. Mattingly fired six shots. Almost simultaneously, Detective Cosgrove, also in the doorway area, shot sixteen times. This all took place in a matter of seconds.
In total, six bullets struck Ms. Taylor. Medical evidence in the case shows that only one shot was fatal. Further medical evidence shows that Ms. Taylor would have died from the fatal shot within seconds to two minutes after being struck.
Detective Hankison fired his weapon 10 timesincluding from outside a sliding glass door and through a bedroom window. Some bullets traveled through apartment four and into apartment three, before some exited that apartment. At the time, three residents of apartment three were at home, including a male, a pregnant female, and a child.
There is no conclusive evidence that any bullets fired from Detective Hankisons weapon struck Ms. Taylor.
The KSP ballistics analysis did not identify which of the three officers fired the fatal shot. The FBI Crime Lab was asked to conduct an analysis to see if their analysis reached the same results. The FBI ballistics analysis concluded that the fatal shot was fired by Detective Cosgrove.
SPU looked at both reports to determine if there were major differences in the procedures used by each lab that would have led the FBI to identify who fired the fatal shot. Both law enforcement agencies used similar equipment and analysis, but issued different findings.
The investigation found that Sergeant Mattingly and Detective Cosgrove were justified in their use of force, after having been fired upon by Kenneth Walker. Secondary to this justification, the KSP and FBI ballistics analysis reached different conclusions, creating a reasonable doubt in the evidence about who fired the fatal shot.
Also at todays announcement, Attorney General Cameron announced he will be creating a task force to review the process for securing, reviewing, and executing search warrants in Kentucky. The task force will include elected leaders, citizens, law enforcement representatives, members of the judiciary, defense attorneys, and others.
Conducting a top to bottom review of the search warrant process is necessary to allow input on the current system and determine if changes are required, said Attorney General Cameron. This is a necessary step for our law enforcement, citizens, and elected leaders to take together, and I look forward to leading this important discussion.
UPDATE 1:25 p.m.
The grand jury has recommended three charges of wanton endangerment for former officer Brett Hankison in the Breonna Taylor case. No other officers were indicted.
Wanton endangerment is a Class D felony carrying up to five years in jail on each count if convicted.
Kentucky Attorney General Daniel Cameron is expected to address the findings shortly afterwards in Frankfort at 1:30 p.m. in the Kentucky History Center and Museum.
The press conference will be aired live on WTVQ ABC 36.
It also can be watched live here .
Taylor was shot and killed in her home on March 13 when Louisville Metro Police officers served a no-knock warrant related to a narcotics investigation.
The Jefferson County grand jury has recommended three counts of first degree wanton endangerment for former Louisville police officer Brett Hankison in the Breonna Taylor case. No other officers involved were indicted.
The charges are for Hankison firing randomly and endangering other people in the apartment complex and not for anything involving Breonna Taylor herself.
Attorney General Daniel Cameron's office said it did not investigate Kenneth Walker or Breonna Taylor, claims of civil negligence by the officers or the narcotics case against Jamarcus Glove or the search warrant obtained for Taylor's apartment.
According to legal experts, the Grand Jury's decision basically means the Grand Jury decided in legal terms the police officers had a right to be there and when fired upon, had a right to return fire.
On March 12, Judge Mary Shaw signed off on five warrants as part of a narcotics investigation. The warrant for Taylor's apartment was one of them.
Around 12:30 a.m. on March 13, officers served the warrant at Taylor's home. As the officers entered the apartment, Kenneth Walker, Taylor's boyfriend, fired at them, striking Mattingly in the leg.
While Mattingly said officers did announce themselves, Walker said he did not know it was police. Walker's attorneys said he believed someone was breaking in and fired in self-defense.
Officers returned fire, striking Taylor. She was later found in the apartment unresponsive and died. No drugs or cash was found in Taylor's apartment, attorneys said.
Taylor's family filed a lawsuit against the officers involved in the shooting on April 27. On September 15, the city of Louisville announced a $12 million settlement with Taylor's family — the largest sum paid by the city for a police misconduct case.
LINKS TO WATCH:
Jefferson Circuit Judge Annie O'Connell's Personal Meeting Room
Join from PC, Mac, Linux, iOS or Android: https://zoom.us/s/9856811866
Kentucky Attorney General Daniel Cameron is expected to address the findings shortly afterwards in Frankfort at 1:30 p.m. in the Kentucky History Center and Museum.
The press conference will be aired live on WTVQ ABC 36.
It also can be watched live here .
UPDATE 12:20 P.M.
In Lexington, Mayor Linda Gorton encouraged the community to remain calm during the announcement. She also encouraged people to avoid downtown Wednesday afternoon because of expected protests and rallies.
While she stressed calm, she also said Lexington Police are prepared to keep the community safe.
"I am urging everyone to remain calm as events unfold in Louisville. Protests need to remain peaceful. As always, our police are prepared to protect this community. You can help our community by avoiding downtown today. Out of an overabundance of caution, we are sending non-emergency City employees who work downtown home this afternoon. Many city employees will be able to continue working from their homes. Most city offices downtown will close at 1 p.m. today," Gorton said in a statement.
Meanwhile, Louisville officials also have called for calm and issued more executive orders to give police ad city leaders more authority if it becomes necessary. A summary of the 12:15 press conference:
MAYOR FISCHER
-"WE HAVE SEEN GRIEF, ANGER…FOR LAST 100 DAYS"
-HE DOESN'T KNOW DECISION, BUT IT'S IMPORTANT ALL THE FACTS COME OUT
-NO MATTER WHAT HE ANNOUNCES, I URGE EVERYONE TO COMMIT TO A PEACEFUL, LAWFUL RESPONSE
-I ASK WE ALL MAINTAIN FOCUS ON NEED FOR RACIAL EQUITY SO WE CAN MOVE FORWARD AS A CITY
-WE MUST PLAN FOR LARGE GATHERINGS IN NEXT FEW DAYS
-BEEN IN CONTACT WITH PROTEST ORGANIZERS
-BALANCE 1ST AMENDMENT RIGHTS WHILE MAINTAINING PUBLIC SAFETY
-THANKING LMPD FOR KEEPING PEOPLE SAFE IN CHALLENGING SITUATION
-PLANS INCLUDE 3 EXEC ORDERS (ONE NEW) FIRST DELC'D STATE OF EMERG. ALLOWS FOR EXERCISING EMERG POWERS TO CONTRACT FOR SERVICES AND IMPLEMENT CURFEWS. ORDER 2 RESTRICTS ACCESS TO PARKING GARAGES AND ON STREET PARKING DOWNTOWN. 3. COUNTY WIDE CURFEW 9:30 P.M.-6:30 A.M. TONIGHT. DOESN'T INCLUDE PEOPLE WORKING, SEEKING MEDICAL ATTN OR GOING TO CHURCH
-HOW CAN YOU HELP KEEP THINGS SAFE? PROTEST WHEN IT'S LIGHT OUT. WRAP IT UP BY 8 P.M. SO YOU CAN BE HOME BY 9 P.M.
-ALL LOUIVILLE METRO BUILDINGS IN DOWNTOWN QUARTER CLOSED REST OF TODAY AND TOMORROW
-DOWNTOWN BIZ ALLOW EMPLOYEES TO WORK FROM HOME PLZ
CHIEF SCHROEDER:
-WE AS A COMMUNITY NEED TO MOVE FORWARD. LMPD HAS BEEN WORKING WITH COMMUNITY OVER LAST SEVERAL MONTHS.
-TODAY'S ANNOUNC IS ANOTHER STEP MOVING FWD
-NO MATTER THE DECISION, WE'LL PROTECT
-WE'VE RESTRICTED AREA IMMEDIATELY ADJACENT TO JEFF SQUARE PARK
-NO PARKING AND LIMITED VEHIC ACCESS FROM BROADWAY N TO MARKET ST AND FROM 2ND TO 9
-RIDE SHARE IF YOU'RE COMING TO PARK AND BE PREPPED TO WALK A FEW BLOCKS
-WORKING WITH BIZ OWNERS, EMPLOYEES, AND PEOPLE LIVING THERE FOR ACCESS
-ALL VACAY REQUESTS AND OFF DAYS CANCELLED
-RESOURCES DISTRIBUTED THROUGH METRO TO MEET ANY CHALLENGE
-LOCAL, STATE, AND FEDERAL PARTNERS WILL HELP
UPDATE, POSTED 11:20 A.M.
FRANKFORT/LOUISVILLE, KY. (WTVQ) – The Jefferson County grand jury will present its
report on the Breonna Taylor case to Jefferson County Circuit Judge Annie O'Connell Wednesday Sept. 23, 2020, at 1:15 p.m. ET.
Viewers can watch the proceedings on ABC News and WTVQ-TV ABC 36.
The remote court proceeding also is open to the public and can be accessed here:
Jefferson Circuit Judge Annie O'Connell's Personal Meeting Room
Join from PC, Mac, Linux, iOS or Android: https://zoom.us/s/9856811866
Kentucky Attorney General Daniel Cameron is expected to address the findings shortly afterwards in Frankfort at 1:30 p.m. in the Kentucky History Center and Museum.
The press conference will be aired live o WTVQ ABC 36.
It also can be watched live here .
ORIGINAL STORY POSTED 10:15 A.M. WEDNESDAY, SEPT. 23, 2020
FRANKFORT/LOUISVILLE, KY. (WTVQ) – Day care centers and other businesses and agencies near the Kentucky History Center in Frankfort are closing early Wednesday in anticipation of an announcement of a decision by a Grand Jury on whether to indict Louisville Police officers in the death of 26-year-old Breonna Taylor in March.
Kentucky Attorney General Daniel Cameron is expected to make the announcement at 1:30 p.m. from the History Center, according to the Louisville Courier-Journal, although that time and location have not been confirmed by Cameron's office.
The newspaper reported Kentucky State Police cars and orange cones are blocking off the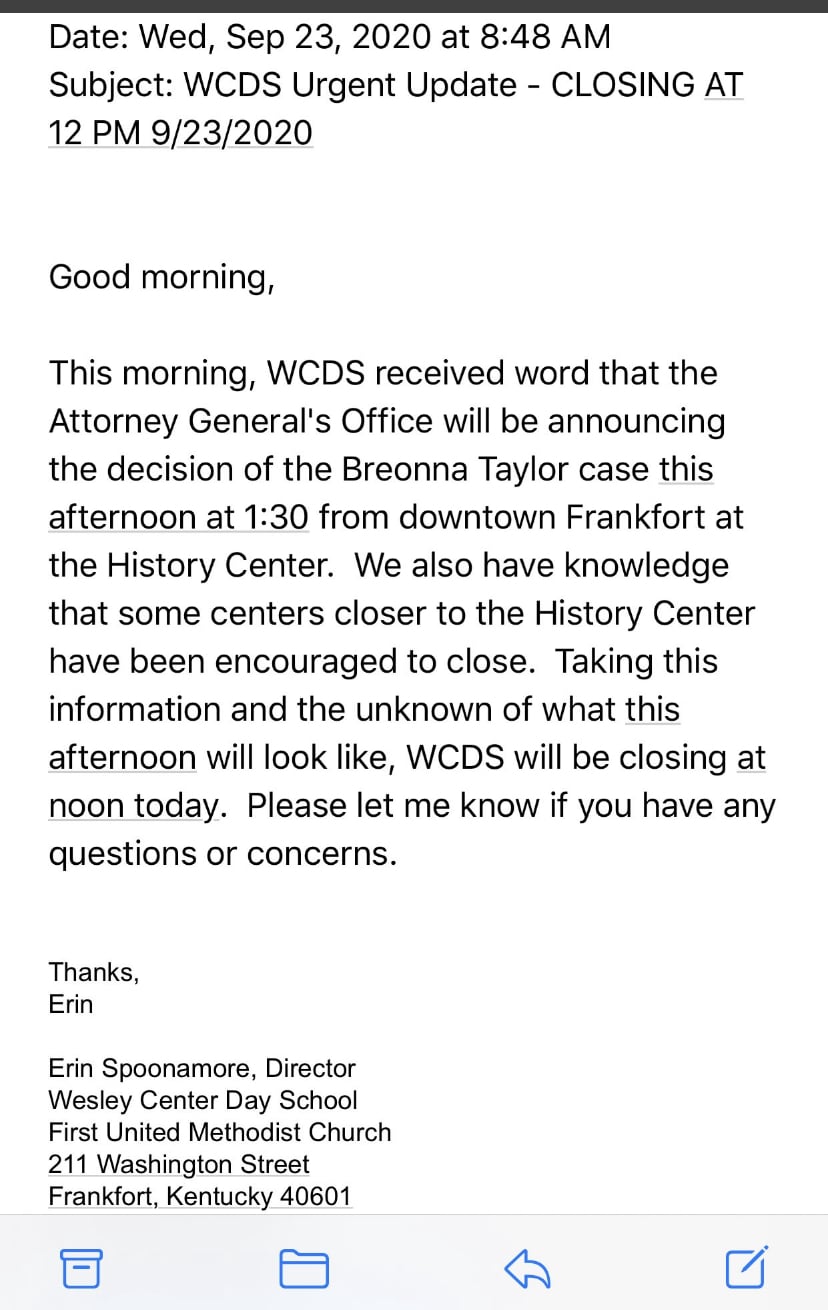 Kentucky History Center.. And Wesley Center Day Care, which is nearby, is closing at noon, according to a message the center director sent out Wednesday morning.
The Kentucky Association of Criminal Defense Lawyers also sent out an email to its members saying a decision in the Taylor case would be made at 1:30 p.m., the newspaper reported.
Louisville has been on edge all week as the announcement on the decision loomed. Businesses closed and boarded up over fears of potential violence, while city and faith leaders have urged calm, regardless of the decision.
Taylor's family, joined by celebrities worldwide, have called for criminal charges against the officers.