UPDATE: Pair charged in connection with storage unit burglaries
UPDATE 10 P.M. THURSDAY, MARCH 25, 2021
FRANKLIN COUNTY, Ky. (WTVQ) – A man and a woman have been charged in connection
with a string of storage unit burglaries.
According to the Franklin County Sheriff's Department, at about 1:40 a.m. Thursday, Da deputy was patrolling the area of Twilight Trail and spotted a Chevrolet HHR that was suspected in the burglaries of the storage units on Twilight Trail.
The deputy stopped the van and located burglary tools and drugs in the vehicle, the department said.
The driver, 37-year-old , Kevin Hayes, of Clearfield, Ky., was charged with Trafficking in controlled substance 1st degree more than 2 grams of methamphetamine and possession of burglary tools.
As the investigation continued, deputies were led back to the storage units wherethey found Hayes' girlfriend, 35-year-old Laura Roberts, of Clearfield.
Deputies discovered approximately four grams of suspected crystal methamphetamine and other paraphernalia, according to the department. She was charged with possession of crystal methamphetamine .
At about 12:45 p.m. Thursday, a search warrant was obtained for a storage unit that Roberts had rented in the area. Numerous stolen items were recovered in the unit and are currently being processed and returned to the owners, the department said.
ORIGINAL STORY POSTED WEDESDAY MARCH 26, 2021
FRANKLIN, COUNTY, Ky. (WTVQ) – Franklin County Sheriff's Office needs the public's help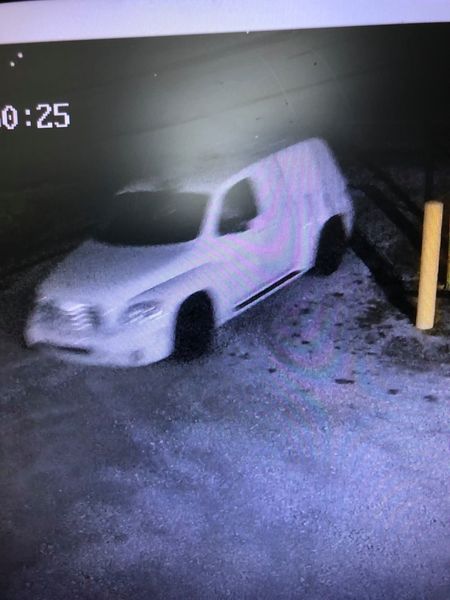 identifying people who are breaking into storage units.
According to investigators, on March 17, 2021 suspects were seen entering a storage facility on Twilight Trail and used bolt cutters to gain access.
Detectives say the intruders left the scene in a white Chevrolet HHR that has white body panels in place of where the windows normally would be.
Anyone with information is encouraged to call their anonymous tip line at (502) 320-3306, message the department on Facebook or call the office at (502) 875-8740. Information will remain confidential!