FrankfortCon returns to Capital City
There are also celebrities, voice actors, video game tournaments and costume contests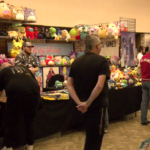 FRANKFORT, Ky (WTVQ)- In the capitol city Saturday, Frankfortcon returned for it's 6th year to the Capitol Plaza Hotel in downtown.
The one-day only, pop culture event brings dozens of cosplay characters and families from around the commonwealth in.
As a comic con, it features more than a hundred vendors specializing in comic books, toys, and costumes.
There are also celebrities, voice actors, video game tournaments and costume contests.
"It's bringing together all these communities, who knows. People from all walks of life who, even people who have no interest in cosplaying can just come here and have a great time," says Clancy Deervis, who attended the convention.
"Gives people a chance to geek out, you know, come here looking for comic books, toys, pop culture items, apparel, jewelry, this is the place to come to," says show manager Carmine Desanto.
Organizers say if you missed the event this year,  they're putting on an anime fest on February 25th at the Capitol Plaza Hotel. The hours are from 10 a.m. to 5 p.m.