Frankfort hosts first Anime-Fest at Capital Plaza Hotel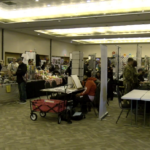 FRANKFORT, Ky (WTVQ)- The capitol city was full of cosplay characters Saturday for the first Frankfort Anime-Fest.
The event was held at the Capital Plaza Hotel and featured famous voice actors and celebrities. It also included an anime costume contest, video game competitions, panels, and trivia.
More than 50 vendors were set up in different rooms selling merchandise and art.
"It's a day for the family to come out, enjoy all your favorite anime characters, you name it. All the way up from Dragon Ball Z to Pokemon to My Hero Academia to Naruto. It's just a day full of fandoms to come out and get their autographs from their voice actors or get some merchandise or watch some movies or just enjoy the meat cafe. There's so much to do here," says Carmine De Santo, the show manager.
If you missed the event- LexingtonCon returns Sunday at the Embassy Suite hotel from 10 A.M. to 5 P.M.