Fayette new COVID cases jump to more than 50 in one day
LEXINGTON, Ky. (WTVQ) – Fayette County's new COVID cases jumped Tuesday to a level first seen in July 2020.
It's prompted local health officials to renew pleas for people to get vaccinated.
According to the Lexington-Fayette County Health Department's Wednesday report, the county recorded 53 new cases Tuesday, pushing the total since March 2020 to 35,779. That follows 53 cases Saturday through Monday, 23 new cases Friday, 24 new cases Thursday and 16 Wednesday.
Almost all of the new cases have been in people who are not vaccinated. And in the cases where people had been vaccinated, the symptoms were mild, according to the Health Department.
The county first hit 53 cases in a day on July 22, 2020. It was the most in a single day since April 15.
The seven-day moving average continued to climb, rising from 22 Tuesday to 24 Wednesday. It was just 15 two days ago and was only 4 on July 6.
Fayette County has had 35,779 cases and 2,103 hospitalizations since March 2020.
The county reported no new deaths, leaving at 324 the number of people lost to COVID-related causes since March 2020.
Meanwhile, as of Sunday, 207,529 county residents had received at least one vaccine shot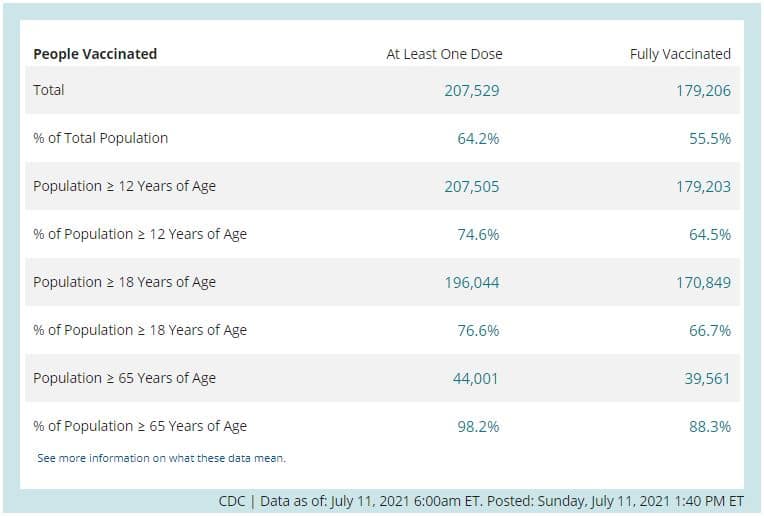 and 179,206 were fully vaccinated. That translates into 64.2% and 55.5% of the population respectively.
Also, 88.3 percent of the population over 65 is fully vaccinated.
The monthly totals of COVID-19 cases during the outbreak are:
• 110, March
• 143, April
• 507, May
• 793, June
• 1,702, July
• 2,538, August
• 2,804, September
• 2,736, October
• 6,070, November
• 5,991, December
• 6,155, January
• 2,694, February
• 1,314, March
• 1,027, April
• 689, May
• 287, June
To keep cases from increasing, continue to follow these guidelines:
• Wear a cloth face-covering in public
• Avoid close contact with others
• Wash your hands often
• Stay home if you are sick
• Get vaccinated when you have the opportunity.
The Health Department also reminds people symptoms from allergies can be similar to
COVID, but the two have some differences.
Lexington's COVID-19 numbers are updated Monday-Saturday at
lfchd.org.