EXCLUSIVE: Jordan Morgan's mother speaks with ABC 36 one year after daughter's death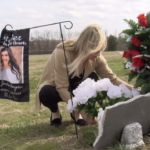 RICHMOND, Ky (WTVQ)- Wednesday marked a very somber one-year since police say Shannon Gilday broke into the home of former state lawmaker Wesley Morgan and shot and killed his daughter Jordan Morgan.
The 32-year-old has been described as the "light of the family"  who wanted to make a difference in the lives of others.
ABC 36 caught up with Morgan's mother Lisa Foster at her daughter's gravesite. The tombstone is surrounded by a Taylor Swift album, jewelry, and other reminders of what Jordan loved most.
"I'm always finding all kinds of little things that somebody's come by and put there. And I leave them, I just leave them," said Foster.
She says they're little signs of just how much 32-year-old Jordan Morgan is missed and loved following her tragic death.
Foster visited her daughter's gravesite on the one-year anniversary of her death.
"Only if you're a parent that's lost a child. There are no words that you can tell how that feels. You have to be that parent," says Foster, choking back tears.
Police say on February 22, 2022, Gilday broke into the home of Wesley Morgan. Gilday shot and killed Jordan, before exchanging gun fire with Wesley and fleeing.
Foster recalls the morning she received the phone call no parent wants to get.
"It was around 6 in the morning and it was Wesley, he was on there and he just said 'there's been an invasion and I think Jordan's dead. My husband was coming in from the gym, we got in the car. And we ran up to the house and there was an ambulance there so I thought maybe she was in the ambulance, so I was hollering for her. The police called out and the coroner came out, but they wouldn't let me in the house, because I wanted to go up and see her," says Foster.
Gilday was caught days later. He remains in custody at the Madison County Detention Center.
Foster admits the road has been long and hard, but she's putting her energy towards something positive. She's currently helping other women form a non-profit aimed at helping human trafficking victims.
She says Jordan's death has also touched countless others.
"The thing I've noticed the most is her death reality into life. I think it brought a lot of people closer to the lord. Because they realize death is real," says Foster.
Foster says she visits the gravesite as much as her heart allows, but says she knows her daughter is in a better place.
"This is where her body is at. But her spirit is with the Lord," says Foster.
Earlier this week, Wesley Morgan filed a lawsuit suing Gilday for injuries he and his daughter sustained in that shooting, as well as the wrongful death of Jordan. Shannon Gilday's mother Katie is also named in that lawsuit.
Gilday is due back in court on March 17th.