As cases spread, health departments kick into action; ambulance services seeing a problem
BOYLE COUNTY, Ky. (WTVQ) – As Gov. Andy Beshear and others have warned, case of coronavirus are gradually going to show up in every county in the state.
Meanwhile, several ambulance services across the region say they are beginning to see a trend, one they hope they can stop.
"There have been several 911 calls, where we have arrived on scene and they are just requesting for us to administer the COVID-19 test to them. We are unable to do that, and will not be able to due to the strain on the 911/EMS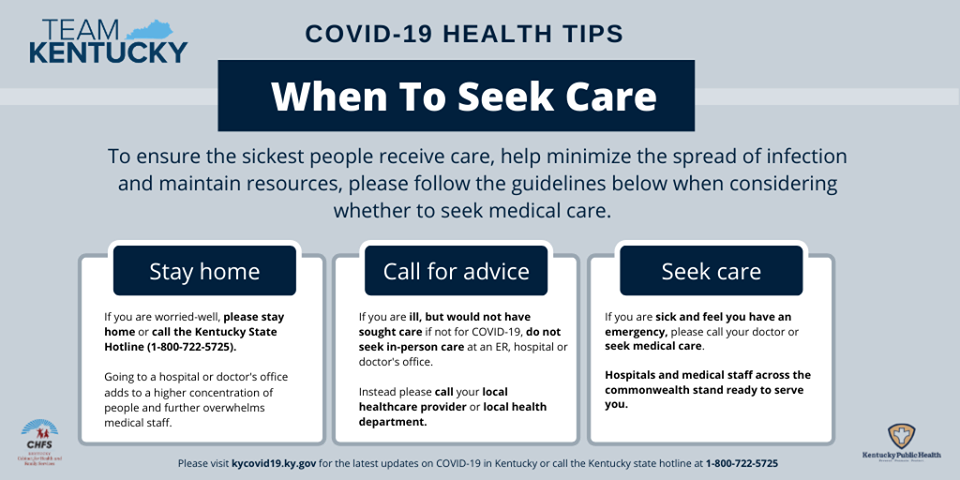 system. If you have symptoms, or concerns, please refer to the chart below for what to do," the Somerset-Pulaski County EMS said on its Facebook page, referring people to the standard guide chart for when and how to seek treatment.
Meanwhile, among the latest counties in the region to get their first cases and see the numbers grow are Mercer, Boyle and Woodford. And health professionals in those counties have started the steps to track contacts with those who have confirmed cases and taking the other steps necessary to isolate them.
Mercer positive case #2 is cooperating and quarantined at home. If you took the time to scroll through the entire list, you should be convinced that this virus is widespread. It is in Mercer County," the Mercer County Health Department warned on its Facebook page, referring to a list of demographics of almost every case in the state. "You can avoid it by staying home."
"As many Kentucky counties are now reporting multiple cases, we have another Boyle County resident who tested positive through a commercial lab for COVID-19 via Ephraim McDowell Health," the Boyle County Health Department reported Sunday on its Facebook page,.
"Boyle County Health Department's (BCHD) Epidemiology Team has begun to track individuals who have been in close contact with this new case and are at risk of infection. Those individuals will be instructed on proper quarantine measures and monitored to safeguard their own and the public's health. Individuals not contacted by BCHD are considered as having no more risk than the general public at this time.
"As the testing capabilities have increased, we expect to see multiple cases reported. Continue to practice: social distancing, wash hands, no public gatherings and keep your hands off your face! Our earlier post today asked people to only have one person go into stores instead of the whole family. Please- heed this now!" the department warned.