CASA of Lexington adds 20 new advocates for abused, neglected children
LEXINGTON, Ky. (WTVQ) – Hugs have often been in short supply since the pandemic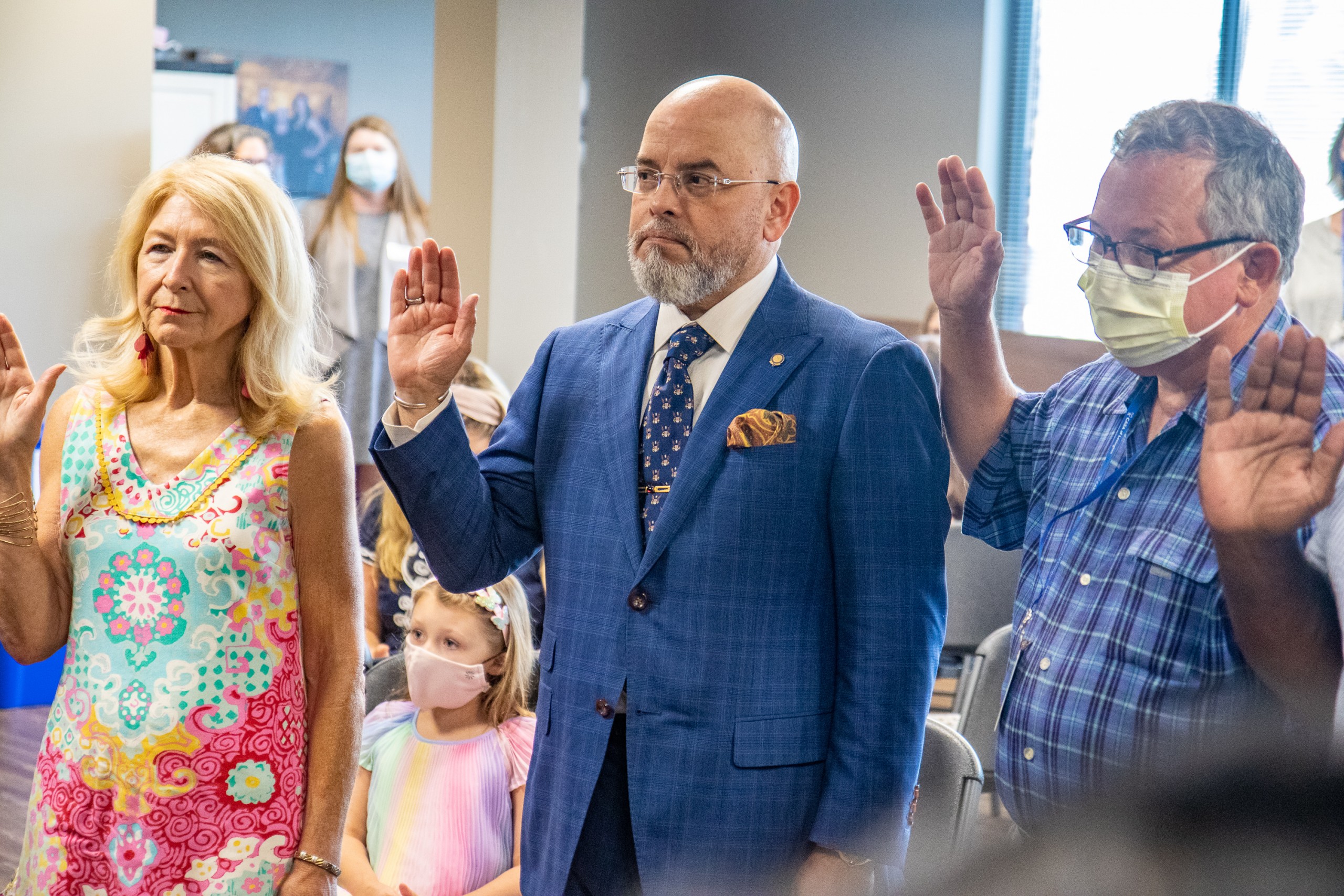 began, but they made a warm return at a swearing in ceremony for new CASA volunteers held at CASA of Lexington Tuesday evening.
Fourteen new Court-Appointed Special Advocate (CASA) volunteers were sworn in at the ceremony, which was held in-person for the first time since February of 2020. Friends, family and CASA of Lexington staff cheered and congratulated the new volunteers after they were sworn in by Fayette County Family Court Judge Lucinda Masterton.
Over the summer, CASA of Lexington has trained and sworn in a total of 20 new volunteers, who will now begin advocating for abused and neglected children in family court.
The volunteers will serve children with cases in Fayette, Jessamine, Garrard and Scott counties.
"In every case where we have our CASA volunteers, I know we're getting better information about our children," said Scott County Family Court Judge Lisa Hart Morgan, who swore in four of the new volunteers virtually in July. "I know fewer things are falling through the cracks. I know these kids are getting tremendous resources in terms of care. It's making a huge difference in these kids' lives."
Masterton told the new volunteers on Aug. 3 that she has seen many cases where the CASA volunteer's attention to a child's needs made a huge difference.
In one case, the CASA volunteer recognized that a child's behavioral problems were tied to hearing loss.
The child was enrolled at a school where they could learn American Sign Language and given cochlear implants. The child is now doing better behaviorally and will likely be adopted, Masterton said.
"It was just a miracle having that person who looked at the whole situation," she said. "Nobody comes in other than the CASA to say what is really going on with this child."
New CASA volunteers complete a 30-hour training course, held on nights and weekends.
Then, they are sworn in and matched with children in the family court system who need an advocate. A CASA volunteer visits with their assigned child regularly, talks to adults involved in the child's life and reports back to the judge, providing a level of detail about the child's life and what they need that isn't otherwise available.
"There are hundreds if not thousands of children in our local family courts right now who could benefit from having a CASA volunteer to advocate for them and only them," said Melynda Jamison, Executive Director of CASA of Lexington. "These new volunteers will probably make a difference for at least 40 ofthose children in their first year."
CASA of Lexington's next volunteer training course begins Sept. 7. More information about the training and an application to be a CASA volunteer are available at www.casaoflexington.org.
Anyone interested in learning more or becoming a CASA volunteer can also email info@casaoflexington.org.
CASA of Lexington's trained and supervised volunteers advocate through the family court systems in Fayette, Bourbon, Woodford, Scott, Jessamine and Garrard counties to ensure all victims of child abuse and neglect are safe and thrive in a permanent home.