BourbonCon wraps up in Lexington
People could sample different brands, hear from bourbon industry leaders, and shop at the retail store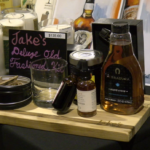 LEXINGTON, Ky (WTVQ0- Kentucky is bourbon country and a new convention is wrapped up Saturday night in Lexington.
BourbonCon came to the Marriott Griffin Gate hotel bringing with it dozens of locally known bourbon makers and vendors.
People could sample different brands, hear from bourbon industry leaders, and shop at the retail store.
"We decided to have the thirty distilleries under one roof, whether a sampling or tasting, talking about the distilleries. All kinds of stuff that anybody who is either interested or not interested in bourbon could have something to do here," says Jasen Fontaine, the director of food and beverages for the convention.
The event also included a mixologist competition, cooking demos and conversations with authors and jockeys.
"This is our first year. We are hearing great feedback. People are saying please make sure you do it again. So we are doing really well. We've had a great turnout," says Sarah Thacker, the director of sales and marketing.
You can find out more information about the convention here.