"Battle in the Saddle" returns to Kentucky Horse Park
LEXINGTON, Ky. (WTVQ) – The Battle in the Saddle Celebrity Team Penning event returns to the Kentucky Horse Park this week.
The annual event is hosted by the Kentucky Horse Park Foundation and will take place Friday, Sept. 3 at the Kentucky Horse Park covered arena.
ABC36's Erica Bivens is a celebrity rider this year and will join Hil Boone and Mason Primm for the team competition. There are 20 teams scheduled to compete.
KHP Foundation Commissioner Becky Jordan explains how it works, "The object is to separate out three cattle with the same number, put them in a pen and take them away from their buddies in the herd."
Teams will compete for bragging rights and a specially designed belt buckle.
"It is not an easy thing to do," said Jordan. "You have to check your ego at the door, it's lots of fun, it's a family event."
The event raises money for the Kentucky Horse Park through the foundation.
Doors open Friday at 5:30 p.m. with dinner at 6. The team penning competition begins at 7 p.m. and is followed by an awards ceremony and after party.
Tickets are available HERE and include dinner, a western swing dance party and more. It's county western attire.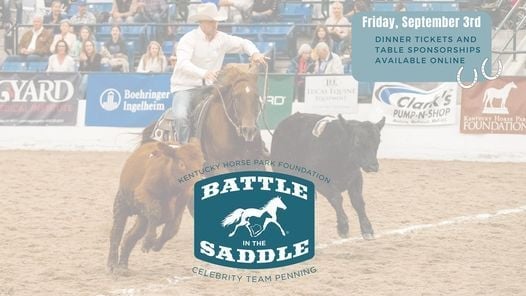 Source: Kentucky Horse Park Foundation