ACLU of Kentucky, advocates urge lawmakers to pass CROWN Act
The ACLU of Kentucky, students, and other advocates held a rally Wednesday at the state capitol to make their voices heard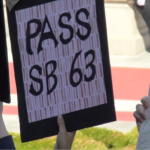 FRANKFORT, Ky (WTVQ)- Several communities in Kentucky have passed local ordinances that prohibit discrimination of black hair styles.
But advocates say it's time for those protections to cover all black Kentuckians.
The ACLU of Kentucky, students, and other advocates held a rally Wednesday at the state capitol to make their voices heard..
Advocates have been urging state lawmakers to pass the CROWN Act- which would prohibit discrimination based on hair texture and hair style.
The ACLU of Kentucky says this type of discrimination targets people of color, particularly black women. A CROWN Act bill has been filed in both the house and senate.
Representative George Brown (D-Lexington) filed Bouse Bill 205, which remains in committee. Senator Whitney Westerfield filed senate bill 63, which has passed out of committee and is waiting to be read on the senate floor.
Both bills would protect black Kentuckians from discrimination regarding their hair and race. The bills also prohibit school disciplinary codes from discriminating on the basis of race.
"We've got our work cut out for us though. There's still some folks that don't quite see the value of this and don't believe that this is important. But don't give up," says Senator Westerfield.
Westerfield says he's heard countless stories from women being discriminated against based on their natural hair style.
The ACLU has been working with state lawmakers for years to get a crown act passed. The organization says 80% of black women are more likely to say they have had to change their hair style from its natural state to fit in at their office.
"For a lot of folks, this hasn't happened to them so they're not aware of that this is event a problem," says Jackie McGranahan, a policy strategist for the ACLU of Kentucky.
Wednesday, advocates shared their stories of discrimination based on their hair styles and rallied inside the capitol rotunda and on the capitol steps.
Among them was Dominique Joy Thompson, who is Ms. Black Kentucky USA.
"I'm also a model as well. So I've even been told that my hair wasn't long enough to go out one day. I was replaced by two other models who had hair," says Thompson, who believes the CROWN Act would help the younger generation.
So far, twenty states have passed crown act legislation, including Tennessee, Virginia and Illinois. 20 more states have pre-filed similar bills.
The ACLU is encouraging people to call their legislators to make their voices heard.
"It doesn't override existing workplace safety regulations. This is about using protective hair styles as a proxy for race, which is race discrimination. We're just trying to stop discrimination in as many forms as we can," says McGranahan.