Accountants share tips you need to know before filing taxes
Tax experts say while its good to file your taxes sooner rather than later- it's also important to be accurate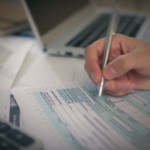 LEXINGTON, Ky (WTVQ)- It's the time of the year to do your taxes as tax season began this week. Service providers say they've been slammed.
"Phone calls nonstop, customers coming in and out of the office asking tax questions and wondering how we can expand their tax refund," says Katelin Segar, an accountant with Quality Tax in Lexington.
Tax experts say while its good to file your taxes sooner rather than later- it's also important to be accurate.
And there are some changes you need to keep in mind before filing, like making sure you have all required documents needed before heading to your tax preparer.
You also can expect a smaller refund this year with tax laws doing away with certain benefits related to the pandemic.
"That means things like the earned income credit, the child tax credit, and the daycare credit are all based on the pre-pandemic tax laws. So people may expect lower refunds this year," says Tiffany Williams, the CEO of Quality Tax.
Another thing to watch out for is scams. Accountants say fraud is increasing because people are not making sure they're filing on legitimate sites.
"One of the biggest things that we've seen here like within the last year or so is people's socials being used to file fraudulent tax returns. We've had people's dependents social security numbers be used to file taxes," says Segar.
If you fear you could be a target for tax fraud, you can go to call the IRS to get an IP Pen, or identification protection number by calling the IRS directly.
"When the IRS wants to communicate with you, they never communicate via email, text message, social media, or they rarely call you. Normally, when the IRS wants to communicate with you, it's via snail mail. So as you get a phone call or an email or a text message with someone stating they are from the IRS and they threaten you in some sort, it's best for them to hang up the phone, contact the IRS yourself."
Business owners should also be prepared before filing.
"The main thing if you're a small business owner is that you're not co-mingling your funds. So that's like your personal funds and your business funds. So you want to use apps such as Trip Log, Mile IQ, Quickbooks Self Employed and things like that. That way you can ensure your business is set up properly. So if you do face any type of audit, you have the proper documentation in place," says Williams.  "But if you do own like a partnership or an S-Corp or C-Corp, your deadline is actually March 15th. And a lot of people don't know that their returns are due a month earlier than the individual.
There is some good news this year- you'll have an extra three days to file your taxes this year because the typical tax day falls on a weekend- and the following Monday is Emancipation day.
So this year, your taxes aren't due until Tuesday, April 18th.
Quality Tax is open seven days a week: Monday-Friday from 11 AM to 9 PM; Saturday from 11 AM to 5 PM; and Sunday from 12 pm-5PM. Their location is 996 East New Circle Road.