UPDATE: Shoppers enjoying annual 127 yard sale in Anderson County
LAWRENCEBURG, Ky. (WTVQ) – For more than 20 years, hundreds of vendors and thousands of shoppers have flocked to Anderson County for a shot at finding rare gems during the 127 yard sale – the world's longest.
"They say the dust is the gold," Organizer Stacey Brown said. "The rustier the better."
Lawrenceburg is just one of the stops along the 690-mile route from Michigan to Alabama, and though there are several stops in the county, Brown's lot on Harrodsburg Road is one of the most popular.
"It's kinda like an extended family because we've been doing this for so long and had so many people down here," Brown said.
Christy Miller has been selling antiques, art and a delicious peach cider at the yard sale for three years.
"All the dealers that come from all over the country – we absolutely love it here," Miller said.
Steven Boyer is a custom leather maker from Louisiana.
"It's home away from home," Boyer said. "We take care of each other; different ones cook at night."
However, it's not just the vendors having all the fun. A Missouri couple told ABC 36 that by the time they get home from the yard sale each night, the car is full, but they don't always remember what's in it.
Larry Grubbs said he likes the endless possibilities.
"It's kinda like a treasure hunt – find things you're looking for and kinda intermingle with the people and stuff," Grubbs said.
Though Grubbs is still looking for an antique from his childhood, he said he's glad to have met Vendor Herb Erwin.
"Everybody has a good time," Erwin said. "There's really no problems here."
Brown said the sale is even more important because she promised her mother she would keep it running after she died two years ago.
"And I'm gonna keep it, so we do this in her honor," Brown said.
The yard sale ends Sunday.
LAWRENCEBURG, Ky. (WTVQ) – Yard sale buffs, bargain hunters and browsers will have a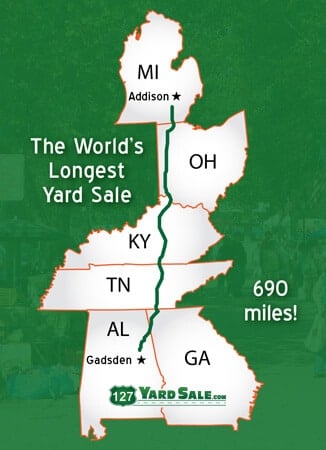 field day the next few days.
Thousands of visitors will travel to Lawrenceburg and Anderson County from Aug. 5-8 as the 127 Yard Sale returns for its annual sales along a 690-mile route from Michigan to Alabama.
Lawrenceburg is host to the largest 127 Yard Sale stop in Kentucky, along with a number of other smaller stops from the Franklin County line south to the Mercer County line.
At Eagle Lake, up to 400 vendors are set up, selling everything imaginable.
The same can be found at the Lawrenceburg Chicken Swap grounds, south of the Bluegrass Parkway, where vendors from as far away as New York, Texas and Florida have been set up for several days already.
There are also several smaller group sales you'll see along U.S. 127, from the north to the south side of Anderson County.