What will happen to the AR-15 used in the Old National Bank shooting?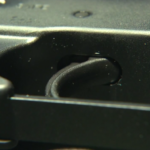 LOUISVILLE, Ky. (WTVQ) – The mass shooting in Louisville Monday that killed five people and wounded eight others is raising renewed debate over gun reform. State and city leaders are calling on lawmakers to take action.
Right now, state law allows the AR-15 used in the mass shooting that was confiscated to be sold in an auction. That means that same gun could be back on the streets.
Since 2008, the Kentucky General Assembly made Kentucky State Police the administrator of the forfeited gun sales. According to the KSP website, the Law Enforcement Protection Program has been in effect since 1998.
Proceeds from the sales of confiscated firearms ironically go back to equipping law enforcement with body armor and other equipment.
State leaders are speaking out about the need for gun reform in Kentucky. Louisville Mayor Craig Greenberg and United States Rep. Morgan McGarvey are urging state lawmakers to do more to prevent gun violence in Kentucky.
"Can you imagine if a firearm that was used to kill one of your loved ones was put back on the streets? I know exactly how I would feel. I think it's wrong and I think it's a no-brainer for the state legislature to pass a law that keeps guns used to hurt other people from going back on the streets," said McGarvey.
"We have to take action now. We need short-term action to end this gun violence epidemic now. So fewer people die on our streets and in our banks, in our schools and in our churches. And for that, we need help. We need help from our friends in Frankfort and help from our friends in Washington, D.C. This isn't about partisan politics. This is about life and death. This is about preventing tragedies. You may think this will never happen to you. Never happened to any of your friends or loved ones. I used to think that the sad truth is that now no one in our city, no one in our state, no one in our country has that luxury anymore," said Greenberg.
In Tennessee, Republican Gov. Bill Lee issued an executive order that tightens the background check process in the state following a mass shooting in Nashville.
There's no word on whether Kentucky Gov. Andy Beshear plans to call a special session at this time to address gun reform. We reached out to the governor's office to see if Beshear is considering a similar action to that of Tennessee's governor, but have not yet heard back.
We also reached out to Kentucky State Police for more information about their process of the auction of confiscated guns, but our calls have not been returned as of publishing time.