Visitors struggle to find lodging ahead of a busy weekend in Lexington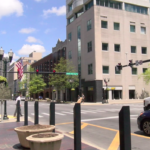 LEXINGTON, Ky (WTVQ)-It's a big weekend in Lexington. The city is expecting to host thousands of people for a number of events like the Railbird Festival, a college regional baseball tournament, and Kentucky high school baseball and softball tournaments..
City leaders say they're excited for the uptick in visitors and filling up hotels is a good thing. While its a positive for economic development, not everyone is happy.
Some who are planning to make the trip to Lexington say they're frustrated, namely, because they're having a hard time finding hotel rooms or other lodging within an hour of the city.
Most hotel rooms and AirBNB's are all booked up.
"It does probably point to the need for more, perhaps. Because as we grow in our events and our ability to draw people in, they do like to come for the weekend a lot of the time," says Lexington Mayor Linda Gorton.
Some are voicing their frustrations on social media, including fans of some college baseball teams coming into town for the NCAA regional tournament at Kentucky Proud Park.
"When we searched, rooms are $300, $400, $500, or non-existent," says Julia Mellett.
Julia Mellett is a photographer for Sports Illustrated and covers the West Virginia Moutaineers, one of the teams making the trip to play in the regional. She says once the announcement came out that UK would be hosting a regional, she immediately began looking for a room. But, she hasn't had any luck.
"Media has voiced their disgruntlement about not being able to find anywhere to stay near the ballpark. We have some very vocal parents of the WVU athletes who are saying that they can't even find rooms outside of Danville. They're looking hours away from Lexington to try to find something.."
One tweet shows lodging plans are being made available for the baseball teams in student dorm rooms. Prices for the athletes and coaching staff cost a little more than $92 per night.
With just days before teams will make their journey to the city, Mellett says fans will just have to make due with they can get.
"I don't see how Kentucky can fix this in the time its going to take. I just think that people are going to have to drive a little longer to see the players they want to get to find a bed to sleep in this weekend," says Mellett.
For those who are having trouble finding places to stay, Mayor Gorton says VisitLex might be able to help.
UK Athletics tells ABC 36 that when the university sent in a bid to host a regional, they were transparent about all the events going on in Lexington. UK says they've made accommodations for all the visiting teams to have on-campus housing. Teams will be paying per room, just like they would if they were staying in a hotel room.