UK students compete in 18th annual Vocal Scholarship Competition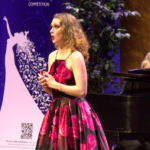 LEXINGTON, Ky (WTVQ)- Some of the best classical and opera singing students were at the Singletary Center for the Arts on the University of Kentucky's campus for the 18th annual Vocal Scholarship Competition.
The event awarded more than $700,000 in scholarships and prizes and the opportunity to attend the University of Kentucky as part of the UK Opera Theatre program.
The competition is a collaboration between Alltech and the University of Kentucky.
Organizers say more than 300 people competed in a preliminary round, before the top 8 undergraduate and 7 graduate students were chosen to move on to Sunday's event.
Judges from around the opera world came to help choose the winners. The competition was started by Pearse and Deirdre Lyons, the founders of Alltech.
U.K. opera leaders say they're always looking for the best talent for their programs.
"It's any student who is interested in vocal study. And so, it has changed lives. People who have won this competition have gone out and are having great careers around the world," says Dr. Everett McCorvey.
Reginald Smith, Jr, one of the first winners of the competition and current opera star, returned today to give a scholarship in his name.
The winners were:
Undergraduate student winners
Pearse and Deirdre Lyons First-Place Undergraduate Award and Scholarship – Max Taylor*
Alltech Second-Place Undergraduate Award and Scholarship – William Cordier*
Alltech Feed Division Third-Place Undergraduate Award and Scholarship – Keen Williams
Alltech Crop Science Encouragement Award – Will Jones
Barbara Rouse Kentucky Prize – Calia Burdette
Alltech and Bryant's Rent-All Encouragement Award – Emily Hayes
Graduate student winners
Pearse and Deirdre Lyons First-Place Graduate Award and Graduate Assistantship – Sierra Kidd*
Alltech Second-Place Graduate Award and Graduate Assistantship – Audrianna Hughes*
Pearse Lyons ACE Foundation Third-Place Graduate Award and Half Assistantship – Kayla J. Wilson
Stand Energy Graduate Award – Eleanor Wilmes*
Gail Robinson Performance Award – Katherine Anne Ledbetter
Reginald Smith Jr. Diversity Scholarship in Opera Graduate Award – Audrianna Hughes