UK Softball team qualifies for NCAA tournament; heads to Evanston Regional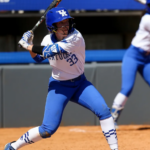 LEXINGTON, Ky (WTVQ)- The University of Kentucky softball team has qualified for its 14th-straight NCAA tournament.
The Cats have been drawn into the 2023 Evanston Regional, hosted by Northwestern University outside of Chicago.
Northwestern earned the #12 overall seed in the NCAA Softball tournament.
Kentucky joins Northwestern, Eastern Illinois and Miami (OH) in the regional.
The Regional is set to begin Friday. The championship game is Sunday.
Kentucky is the #2 seed in the regional and will play the Miami Redhawks Friday on SEC Network.
Ticket information will be announced by Northwestern.
The schedule follows:
Friday, May 19
1pm ET – Kentucky vs. Miami (OH) [SEC Network]
3:30pm ET – Northwestern vs. Eastern Illinois [ESPN+]
Saturday, May 20
1pm ET – Game 1 winner vs. Game 2 winner [TBA]
3:30pm ET – Game 1 loser vs. Game 2 loser [TBA]
6pm ET – Game 3 loser vs. Game 4 winner [TBA]
Sunday, May 21
4:30pm ET – Game 3 winner vs. Game 5 winner [TBA]
7pm ET – If necessary [TBA]