Two injured in Lexington car accident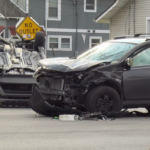 LEXINGTON, Ky (WTVQ)- Two people have been been taken to the hospital with minor injuries after a car accident Saturday afternoon.
The Lexington Police Department says they were called to a vehicle accident in the 500 block of Euclid Avenue just after 5 p.m.
They say a vehicle turned in front of another vehicle. The impact caused one car to roll over onto its roof.
The street was blocked off while crews cleaned up the scene.