The Hope Center breaks ground on transitional housing for homeless, veterans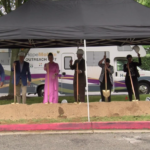 LEXINGTON, Ky (WTVQ)- The Hope Center in Lexington is known for providing resources, programs and support to some of the area's homeless population. The non-profit has buildings scattered along West Loudon Avenue and Versailles Road, including a kitchen.
Officials say there's a great need for transitional housing to help those recovering from substance abuse disorders and addictions.
But the Hope Center is now taking a step to help. The nonprofit broke ground on a new, multi-million dollar housing expansion Wednesday morning at their emergency shelter on W. Loudon Avenue.
Community, and city and state leaders were in attendance for the event, which, when complete, will provide new transitional housing for the homeless population. The facility will provide 72 beds, 24 of which will be dedicated to veterans.
"It's sad to see anyone be homeless everybody needs a roof over their heads. But you think especially veterans who served the country. There's something not right about that. So were very excited about this effort," says Lexington mayor Linda Gorton.
There will also be offices, conference rooms, and common living areas for treatment services and access to technology for job and housing searches.
"It's going to increase the quality of care that we're able to provide to our clients. We certainly already provide for hundreds of clients a day, and several different programs in capacities, but being able to give a homeless veteran a space that is their own as they're getting back on their feet is really a meaningful piece of this project," says Katie Vogel, the director of development.
The project is made possible through ARPA funding given by the city of Lexington, money from the Veterans Health Administration, and fundraising.
The Hope Center says this project is years in the making. They say they've seen a gap in availability of transitional housing.- and say this will help provide more suitable housing for those who are looking to get back on their feet.
"We do emergency housing, we do permanent housing, but that in-between is just something there isn't enough of. So we want to give our clients a stepping stone. Something they can really leverage on their path to self-sufficiency. It will provide a little more than a living environment where they have a little more say about how that goes.It's not a dorm setting like our current shelter is. But it gives them a place to go before permanent housing is.. They're able to find that and then utilize that," says Vogel.
The center expects to cut the ribbon in summer 2024.