Suspect arrested following Saturday night shooting in Lexington
One man has been injured and another arrested after a shooting late Saturday night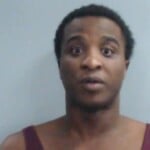 LEXINGTON, Ky (WTVQ)- One man has been injured and another arrested after a shooting late Saturday night.
The Lexington Police Department say officers responded just before midnight to the 100 block of Lakeshore Drive.
When they arrived, they found a man who had been shot. He was taken to the hospital with reported non-life threatening injuries.
Police say Daquan Robertson has been arrested and charged with assault.
The department is still investigating what led up to the shooting.