Special Olympics wraps up in Richmond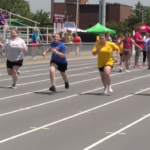 RICHMOND, Ky (WTVQ)- Nearly 1100 athletes from across the state have been back at Eastern Kentucky University this weekend, competing in the annual Kentucky Special Olympics.
The competitions included the state finals in four sports: soccer, bocce, track and field, and rhythmic gymnastics.
The olympics kicked off Friday night and included a torch run. On Saturday, there were hot air balloon rides, closing ceremonies, and a victory dance. Organizers say the olympics marks an opportunity for athletes with intellectual abilities to compete in sports- and have fun doing it.
<"It's important for our athletes to be able to show their communities, to show the people around them how much people with intellectual abilities can accomplish when they're given opportunities, when their given training, and when they're given, and when their given support to do great things. And they come out here every day and you see them at the track, or in the gymnastics venue, just doing great things all over the place. And that's really what makes this event so important," says Mark Buerger, the communications director for Special Olympics Kentucky.
This was the 28th year the event has been held at EKU.