Starving dogs amp up animal abuse awareness efforts
Paws 4 the Cause takes in two starving dogs from Estill Co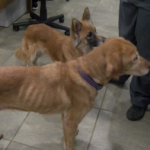 LEXINGTON, Ky (WTVQ)- Animal shelters and rescues continue to see an increase in animal abuse cases. Paws 4 the Cause, just this week, took in two dogs that had been left to fend for themselves in dire condition.
The dogs, named Lady Bird and Skyla are in such bad condition, you can see the ribs on Lady Birds sides.
"She's on a score of 1 to 10, she's a 1. That's probably about the worst there is. And probably in a few more days, if things would have continued, she probably wouldn't be here right now," says Anita Spreitzer, the vice president and general manager of Paws 4 the Cause.
Spreitzer says it all started with a phone call Thursday. Two abused dogs were taken to the Estill County Animal Shelter by a neighbor.
"So when they got to the shelter, they gave them water right away and they drank so much water like as if they hadn't had water in a very long time. And then the first feeding that they had, they ate it down so fast, they actually got sick from it," says Spreitzer.
Spreitzer says animal abuse cases like this are on the rise. She says they've seen three starvation cases in the past four months alone.
"I've been doing this for over 35 years and this is the worst I've ever seen. And I don't know where its going to go. I don't think it can get any worse," says Spreitzer.
Spreitzer says they also recently got a call about a woman trapping cats.
"There's a rural area where there's cats that are being trapped and being left in there to starve to death," says Spreitzer.
Spreitzer is calling on state lawmakers to do more. Currently making its way through the legislature, House Bill 103 would make it a felony to torture a domestic dog or cat. It passed a house committee this week. With the session winding down,  lawmakers only have weeks left.
Paws 4 the Cause and other animal advocates are encouraging lawmakers to do more.
"This is something that's escalating and its not stopping and it needs to stop. Where it stops is the laws. The laws need to be changed here in Kentucky. We need to have stronger laws. That people are actually held accountable for what they do."
Paws 4 the Cause plans to keep the dogs for the next week to nurture them before they will be taken to a foster home.
Spreitzer says fosters and donations are at an all-time low. You can find out how to donate by clicking here.