St. Patrick's Parade and Festival returns in-person for first time since 2019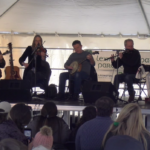 LEXINGTON, Ky (WTVQ)- A Lexington tradition returned Saturday for the first time in four years, with the annual St. Patrick's Day Parade and Festival
The festival kicked off with a Blessing of the Keg around 10:45 a.m.
The event had it all- including Irish dancers and bands, vendors, booths, crafts, and food.
"Just celebrate being Irish. There's so many Irish throughout Kentucky and throughout the country and it's just wonderful to be able to come out and celebrate our heritage and everybody's in a good mood," says Liza Betz, the owner of Failte Irish Imports and a vendor at the festival. Betz's shop is at 113 South Upper Street. They are planning tours to Ireland coming up. To register, go to her website here.
The parade also returned to downtown, featuring about 60 units, including pipe bands, the March Madness Marching Band, dancers and floats.
Organizers say the event is a good way to honor Irish heritage and bring the community out to celebrate.
Lexington's Irish community is really such a vital part of who we are. Whether your Irish heritage goes back generations like mine, 5 generations here in Lexington or you immigrated here from Ireland, we've got a lot of native Irish here working in the horse community," says Megan Moloney, the president of the Bluegrass Irish Society.
The event celebrated its' 41st year after missing the past three years due to the pandemic and bad weather.