Sonny's BBQ provides hot meals for Jessamine County Homeless Coalition team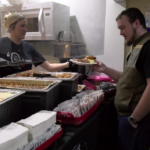 NICHOLASVILLE, Ky (WTVQ)- The Jessamine County Homeless Coalition is known for providing needs to the area's homeless. But Thursday, their needs were met instead.
The Sonny's Bbq Kindness Crew provided a hot cooked meal to the team of volunteers and some of their homeless residents. The meals included barbecue with all the sides, drinks and dessert.
Hygiene items that are needed daily- were also collected and donated to the center.
The event was part of Random Acts of Kindness week, which runs through February 20th.
Members of the coalition say they were blown away by the amount of kindness the crew brought.
"It's nice to know that our community, as nice as it is, its nice to see people maybe who don't know how to help help in this way. Good food is always nice, hot meals are always a good thing, and for them to go above and beyond like they did today just is absolutely amazing," says April McCubbins, the Director of Operations for the Jessamine County Homeless Coalition.
The Sonny's BBQ Kindness crew will next be in Madison County at the Prep Academy tomorrow.