Residents share concerns following flooding at former state park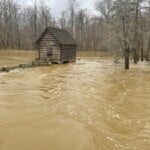 LAUREL COUNTY, Ky (WTVQ)- We continue to see the impacts flooding is having on communities across Kentucky following Thursdays storms.
Homeowners in the Levi Jackson Wilderness Road Park area of London are seeing waters reach within feet of their homes.
Kayne Hensley and his wife live across from the McHargues Mill. On a normal day, you could easily see everything the park has to offer. But not Friday.
"On the other side, there's a parking lot, 15-20 car parking lot, trails to go through. And Little Laurel keeps running through it and it is covered," says Hensley.
Hensley has lived in Laurel County his whole life. He says there have always been parts of Laurel County that tend to flood worse than others .
He and his wife are first time homeowners. Their house is now within feet of being flooded by the Little Laurel River due to rising waters.
"Everytime, it rains heavy, I think we got 3 inches or something like that last night. Little log runs right through here, everytime it rains, it backs up," says Hensley.
Hensley says they just got their home remodeled and fear if the waters get any closer to his home, it could flood or cause more damage to his property.
"When I woke up this morning, I was stressing out because we're trying to get this place settled in for cattle and goats and chickens and all that so we know we got a lot of work ahead of us with all this flooding so there'll be some land rearrangement for sure."
Hensley is now hoping for the best but preparing for the worst. He says he's also concerned about the amount of debris the river leaves on his property. He says he and others have to canoe down the river to clean up. He's pushing for better help from authorities.
People that live in the area are encouraging everyone to be extra cautious and vigilant around any flowing waters.