Rally held to highlight legislation that would make shelter and rescue pets the state pets of Kentucky
The goal was to advocate for special legislation that brings attention to shelter animals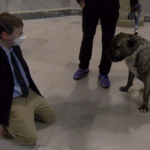 FRANKFORT, Ky (WTVQ)- As animal shelters across the state continue to deal with overcrowding, one Frankfort ten-year-old is doing his part to help.
Ethan Branscum organized the "Rally for Rescue Pets" Friday at the state capitol. The goal was to advocate for special legislation that brings attention to shelter animals.
"I saw that there was a problem for these animals and that they needed help and we can do something about it and I think that we should," says Branscum.
Branscum is the founder of "Ethan's Rescue Pet Project", an organization working to highlight the need to adopt pets from animal shelters.
Branscum says he saw the problems shelters were dealing with- like overcrowding and euthanasia- and wanted to find a way to help. He also wants to bring awareness to counties that don't have animal shelters.
"Mainly wanna just advocate for animal welfare. I mean, these animals need help and we should help them," says Branscum.
He's now partnering with state lawmakers to push House Bill 166, a bill that would make rescued dogs and cats the official state pet of Kentucky.
Representative Cherlynn Stevenson of Lexington is a co-sponsor.
"They're part of our families so we have got to make Kentucky a better place for animals overall. I'm very proud of the progress that we've made since I joined General Assembly in 2019. We have actually raised our rating from the very bottom, but we have a long long way to go," says Rep. Stevenson.
Stevenson says several bills have been filed that would protect pets, including a hot car law, and a bill that would outlaw the sale of dogs and cats in pet stores and only make them available to adopt. Many of those bills haven't been sent to a committee. We are now halfway through the legislative session.
Branscum's advocacy has grabbed the attention of Kentucky's own "Ethan Almighty" — a dog who was also rescued from a shelter.
"There's a lot we can do in the state of Kentucky to make things better and there's a lot of good work going on. But there's still a lot of work that still needs to be done," says Jeff Callaway, Ethan Almighty's adopted dad.
Both Ethans are now raising awareness on the growing need to adopt from your local shelters.
"My boy Ethan was also a rescue, who was left to die in a parking lot. And there's so many other Ethan stories out there in the shelters. They may not get the attention, but they're just as good of dogs and just as good of pets," says Callaway.
"Just because you're a kid doesn't mean you can't make a difference," says Branscum.
Ethan's HB 166 has not yet been assigned a committee. This is his fourth year trying and they're hopeful this will be the year it passes.
Governor Andy Beshear also designated this week as Pet Appreciation Week in Kentucky.